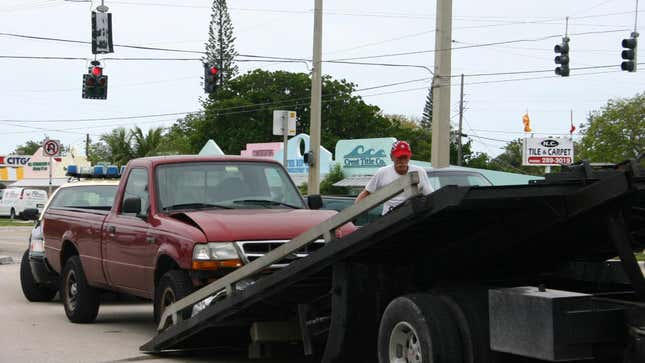 Hurricane Ian devastated Florida. It was the third costliest tropical cyclone on record and the costliest in the state's history, causing $113 billion in damage. Residents of south Florida had enough on their hands to deal with dealing with the damage caused by the weather. Adding to that headache, some people found that their cars had allegedly been illegally towed, per southwest Florida's Fox 4. County sheriffs there shared an update over an alleged theft ring operated by a tow company.
In case you missed it:
Lee County Sheriffs say that three suspects from Philadelphia — identified as Zulma Robles, Guerrier Marcder, and Joseph Richard-Dunston — purchased a random piece of land in North Fort Myers and called it a "tow yard" (owned by Robles) and began operating a towing business called Blessing Towing. Authorities say it all started back in November, right after Hurricane Ian had dissipated. Robles, Dunston, and Marcder (who also happens to be the owner of the company) allegedly towed vehicles that had been damaged in the storm, telling the owners that insurance companies had sent them to get the vehicles.

They would then tow the vehicles to this fake tow yard, store them, and charge owners double the fees to get the back. A report from the sheriff's office says that Blessing allegedly charged owners a $175 tow fee on top of storage fees of $75/day, which in itself is illegal. Lee County has laws that cap towing storage fees at $35/day. Other vehicles that were towed were vehicles that actually needed to be towed; the company still tried to conduct business as usual. Ironically, trying to do business the right way is how they were caught.

Lee County Sheriff Carmine Marceno says a break in the case came when Blessing went to tow a vehicle that had broken down. Authorities were able to find the "tow yard" and recover vehicles that had been taken: a trailer, three golf carts, two boats, and nine cars.

The three involved in the alleged scam maintain their innocence and say they did nothing wrong. Marcder, the owner of Blessing Towing, spoke to Fox 4 and admits to towing the cars, saying "Every car we have we have paperwork for it." But when pressed to show that paperwork, Marcder claims that the sheriff's office took it. And it would seem that Blessing was an actual business, as Fox 4 says state records show the company had a license to operate in the county. Robles, owner of the tow lot, says that they've been harassed by county sheriffs though didn't provide a reason as to why.

All three face 23 charges ranging from grand theft auto to running a chop shop. Authorities also say that the company violated state towing laws like failing to notify authorities when towing a vehicle. The case is ongoing, and Marcder and Robles say they plan to fight the charges.