There is a such thing as speeding in racing, and it's enforced on pit road to try to keep a driver from turning their pit crew—or someone else's—into a set of high-speed human bowling pins. NASCAR driver Clint Bowyer got three pit-road penalties in a row on Sunday, yet managed to finish fifth in the race.

Bowyer's pit-road penalties in the Monster Energy NASCAR Cup Series race at Chicagoland Speedway in Joliet, Illinois ended up as one of those "I'm sorry, I shouldn't laugh" types of situations, since they just kept on coming. And really, Bowyer got the last laugh because he managed to come back from it all by using some of NASCAR's other rules in his favor.
Bowyer took a pit stop on lap 38 during the first stage of the race, which he'd been leading for 20 laps before then. The speed limit on pit road is 45 mph at Chicagoland, and NASCAR officials gave Bowyer a pass-through penalty for speeding. A pass-through penalty means a driver has to go down pit road again, and Bowyer sped during the penalty pass... again. Officials gave him a stop-and-go penalty for that violation, which is like a pass-through penalty but requires a driver to stop in their pit box in the middle of the pass.
Bowyer didn't stop.
NASCAR officials made Bowyer go down pit road yet again, his fourth time in that string of stops and third as a result of penalties, and finally got it right. By the end of it all, he had gone from leading the race to two laps down. Bowyer ended the first of three stages in 30th of 39 cars after starting the race sixth.
G/O Media may get a commission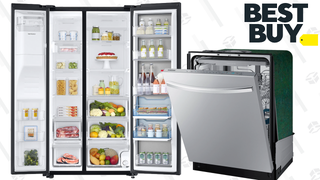 Up to 50% off
Best Buy - Samsung Major Appliance Sale
After the race, Bowyer called his pit speed "a little too fast" in an interview with the NBC Sports television crew.
"The first time, you second guess yourself," Bowyer said. "You come down the second time and you are obviously cautious [and speed again], then you know you've got a problem. Then, it was just confusion on my part. I wasn't listening and made a mistake and cost us a third time down.
"So, we got good at pitting today, unfortunately."
Bowyer was two laps down when the second stage started, but the NASCAR rulebook isn't all about punishment and Bowyer's team used that in his favor. Bowyer stayed out when a long green-flag run brought most of the field down pit road, gambling on a caution to come out and pause the running order while Bowyer had time made up on the cars that stopped. It's a gamble since cars with older tires tend to be slower, and if the caution doesn't come out before a driver staying out has to pit for fuel, that driver ends up losing even more ground.
The caution did come out on lap 128, and Bowyer happened to be the first car one lap down when it did. NASCAR gives a free pass during each caution period to the first car one lap down, allowing that driver to pit and get their lap back under cation. (NASCAR also has a wave-around rule for lapped cars, but only lapped cars that don't pit under caution can take it.)
The second stage ended on lap 160, and Bowyer finished in eighth, on the lead lap. When the race was over at lap 267 after an incredible, retaliation-filled finish, Bowyer was fifth.
All forms of racing work differently, and are judged differently as well. The Formula One Austrian Grand Prix on Sunday was great despite only having three cars finish on the lead lap, yet NASCAR has rules that let teams maneuver laps back because the more competitive cars, the better. But whether you're a fan of those kinds of rules or not, they can make things interesting when a good driver gets caught laps down by errors—errors of their own doing or otherwise.
And interesting is all we can ask for, no matter how we get it.