The $2.223 million lawsuit filed by NASCAR driver Clint Bowyer against HScott Motorsports and team owner Harry Scott Jr. on Nov. 21 was settled Thursday, reports NBC Sports. The lawsuit alleged that HScott owed Bowyer two monthly payments and a commission for bringing sponsorship to the team.
NASCAR driver Clint Bowyer sued his HScott Motorsports team for breach of contract and fraud for at least $2.223 million, reports ESPN. The lawsuit alleges that the team missed two monthly payments as well as a commission for bringing sponsorship to the team.
"Next year will be my last year in the Sprint Cup series," NASCAR Sprint Cup driver and team owner Tony Stewart said in a press conference this afternoon. "It was a choice that was 100 percent mine. I think deep down, you know when it's time to do something different."

Volkswagen isn't the only entity caught with stuff on their cars that violates the rules this week. The number 15 Michael Waltrip Racing car of Chase for the Sprint Cup participant Clint Bowyer was found with improperly installed parts found during the opening day inspection last week at Chicagoland Speedway.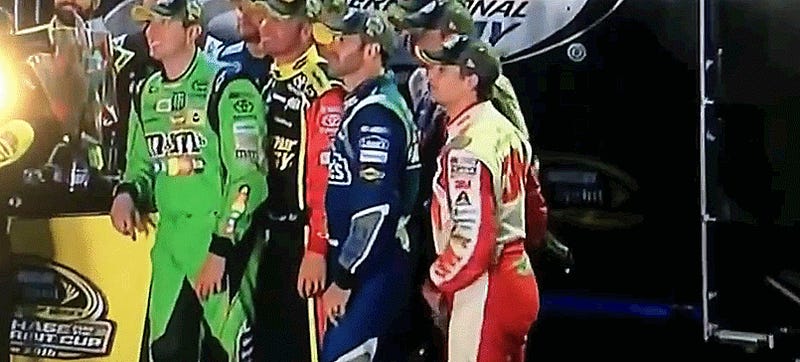 Everyone was gathered around the Sprint Cup championship trophy for his win at Richmond International Raceway to celebrate getting into the Chase for the Sprint Cup, and poor Clint Bowyer gets a ball tap from Kyle Busch.
Need a NASCAR Sprint Cup driver, equipment or perhaps some crew? Clint Bowyer, David Ragan and (health pending) Brian Vickers all seem to be up for grabs as Michael Waltrip Racing announces that they won't field a full-time Sprint Cup effort next year.

If you don't, too bad, so sad. Bowyer just got the most awesome baby gift ever from Kansas City morning show host Johnny Dare.
Did you catch that melee in the pits this weekend between Jeff Gordon and Clint Bowyer's teams? Here's the lighter side of it in this spoof 5-Hour Energy drink commercial, which features Bowyer dashing through the garage to kick him some Jeff Gordon ass.
In case you missed the "fun" and "excitement" of the first 185 laps of yesterday's "Super Bowl of racing" — and our tremendous coverage — you missed out on a really superb nap. But if you missed the last 15 laps — you missed a helluva good show. It wasn't just for the close finish, it was because it was such a wild…