My buddy Bradley Price owns an old '83 Alfa Romeo GTV6 and lets me ride in it occasionally. Also he makes these incredible watches for people like him who love vintage style but can't afford to drop thousands of dollars on a car-inspired watch. I can't give you a ride in his Alfa but I did ask him to explain how he started a brand and how his watches ended up looking so unbelievably glorious.
Automobiles have been my passion since I was tall enough to stare eye-to eye into the tail lights of my dad's Austin-Healey 3000 as a 2 year-old, but I had always viewed cars as a hobby and not something I could tie into my professional career. I had been working as an Industrial Designer for about eight years, and kicked around many business ideas in my head, but nothing passed my simple litmus test: "Is this something I want to get up every day and do?"
Then one Sunday morning, as I was driving some twisting backroads in my Alfa Romeo, I was watching the tachometer needle dance across the gauge face as I went through the gears, and thought to myself how nice it would be if I could have a watch that would remind me of this dashboard instrument — something I could wear and look at when I was at work that would transport me back to this moment of sheer automotive bliss. At that moment, the idea for Autodromo was born.
It was that perfect marriage of my design training and my passion for cars that had been so elusive. But it took two years of hard work between that Sunday morning and the launch of the brand.
G/O Media may get a commission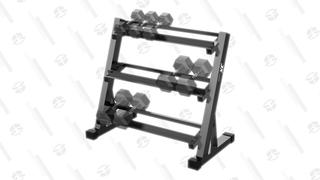 20% Off
JX Fitness Dumbbell Rack
Gains but tidy
Has a three-tier design to help store more weights more conveniently, can safely support up to 1000lbs of weight, which should be enough for most people, has a triangle base for stability, and also features anti-scratch feet which is great if you've built your own studio or workout in your garage.
After my "aha" moment in the car, it wasn't as simple as going home and sketching a watch. I had to create a whole brand that would mean something to people on an emotional level. To craft the brand, I channeled many sources of inspiration from design history, automotive and racing history, vintage chronographs, popular culture, and from my own upbringing. One point of departure for the spirit of Autodromo comes from the opening scene of the original Italian Job (from 1969), which features a very dapper mafioso piloting his bright red Lamborghini Miura through the Col de la Bonette, in the French Alps near the Italian border.
The combination of the music, the road, the car, and the actor driving it are extremely evocative to me, and I suspect to thousands of people around the world, of the ideal motoring experience. When designing the world of Autodromo, I want to create memorable objects that encapsulate that whole feeling of driving a purebred sports car on a twisting alpine road. Our latest chronograph campaign, which was shot in Central France using a host of vintage Italian cars, owes a lot to this cinematic inspiration.
After the inception of the concept, I started doing Photoshop renderings of my design ideas and created the graphic identity for the company as well as the website layouts. Then came iterations of 3D modeling the watch case. I wanted the design to be reminiscent of the sort of bezel you'd see on a dashboard instrument, but with a minimalist, contemporary look. The design also had to be considered as a 360 degree object. Many watch cases may look good on the wrist, but when you turn them over, there is no thought given to how they look. It took several rounds of refinements to make my case design clean, functional, and manufacturable. I also designed my own packaging, which was inspired by lens cases from vintage camera equipment.
Once everything was designed, I had to figure how to make everything, so the next step involved travelling to various trade shows in order to do sourcing. Sourcing is one of the hardest parts of setting up your own company. There are a lot of shady operators, and many of the best, top tier factories don't want to deal with small orders from startups. It was a challenge to find the best suppliers, but in the end, thanks to luck and networking, I was able to find manufacturing partners with integrity, and a commitment to the high quality standards I demand from them.
At the same time, I was registering the business and trademarking my logo and name. There was a lot to keep track of, and a fair amount of anxious waiting, until the day finally came when I had that first watch around my wrist. Along the way, my original idea had blossomed into a whole collection of watches and an entirely new driving-oriented design brand. And although watches are at the heart of the Autodromo brand, I'm already at work bringing a whole family of new products to life that will enhance the driving experience of our customers.
Now that the word has been getting around the internet and appearing in print media, I've been so pleased with the warm reception we've gotten, both from the enthusiast crowd, but also from people who just like good design. For me, the best part about Autodromo is that after seven months, it has passed my litmus test with flying colors. Working on Autodromo is something I love getting up to do every day, and we have some very exciting new releases in the offing that I can't wait to share once they are ready.
If you're curious about the watches themselves, you can check out Autodromo on their website, on their Facebook, or on Twitter.
Photo Credit: Autodromo