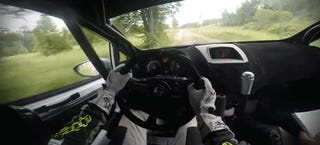 I just... I can't believe this isn't sped up.
I wish I knew who the driver/codriver pair was in this rally-prepped Fiesta, or what event they're running. I saw this pop up on Facebook right here without any attribution.
If you have any clue who this is, or if dear lord I am trapped inside a speed vortex and I can't discern space and time anymore, let me know.
UPDATE: The driver is Danila Belokons, the co-driver is Toms Freibergs, and they're in a front-drive Fiesta R2 rally car. No turbo in that thing. The original video is right here and yeah, it's sped up. The gif up top should be real speed.
(Hat tip to Bill Petrow and WarShrike!)