One of the two marques synonymous with Australian V8 Supercar racing confirmed today that they will be pulling their support from the Ford Performance Racing team after 2015. Their withdrawal from the sport is indefinite, and the world of racing is a sadder place as a result.
Ford isn't pulling the plug on a failing effort. They're withdrawing from a highly competent and competitive team. Chaz Mostert and Paul Morris won the Bathurst 1000 this year in a Ford Performance Racing Falcon. Mostert's teammate Mark "Frosty" Winterbottom is a perennial fan favorite as well, constantly battling at the front of the pack.
G/O Media may get a commission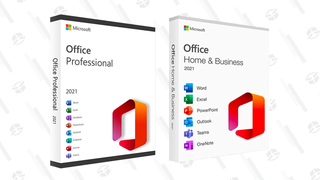 89% off
Microsoft Office Professional 2021 Lifetime License
Prodrive Racing Australia, the team behind the Ford Performance Racing works effort since 2003, is predictably disappointed, but focused on the viable future of their team. In a statement released on FPR's team website, PRA CEO Tim Edwards had this to say:
Ford Australia's decision to not extend its commercial relationship with our team beyond the end of next season is extremely disappointing for our large and loyal fan base, but as a business this decision now allows us to concentrate on our long-term future.

We have enjoyed a highly-successful relationship with Ford Australia with just shy of 50 race wins, 150 podiums and the last two Bathurst 1000 crowns together.
This on track success, along with the engineering and commercial strength that underpins our racing activities, provides us with a very viable business and a strong platform for our future in the sport.

We will run the new FG X Falcon next season as planned with support from Ford, and we'll possibly campaign the car in 2016 ahead of the major regulation changes coming from 2017.

Now that we know where we stand we can further develop other opportunities. We have a range of options, some existing and some that were awaiting this decision, so we can now begin to explore these further.

Whatever happens, I know our loyal fans will support our team whatever direction we take.
"When [fellow co-owner] Rusty French and I purchased the team two years ago we did so because we saw a strong and diverse business, filled with vibrant people and all with a desire to succeed," explained team owner Rodney Nash in the same statement.
"That hasn't changed today and nor will it based on the decision of one of our commercial partners. We have a broad revenue base and this decision does not weaken the viability of our business."
Prodrive Racing is sure to stick around, but whether they will continue campaigning Fords after 2015 remains to be determined. There is one last race at Sydney Olympic Park left on the schedule for this year, and the team is focused on closing the season on a strong note.
V8 Supercars released a statement about the withdrawal hoping that PRA and privateers DJR Team Penske will keep Ford's V8 heritage alive and well despite the lack of factory backing:
Ford's marketing decision not to continue with V8 Supercars from 2016, effectively closing the door on more than 50 years of proud racing heritage, does not spell the end of the Blue Oval on the grid.

Ford announced today that it would withdraw support of its one factory team after next year when six Falcons will contest the 2015 Championship.

V8 Supercars hopes the Ford brand will continue in the sport beyond 2016 with our without support from HQ, as has Ford's most loyal team Dick Johnson Racing which next year will become DJR Team Penske. Ironically racing royalty Roger Penske, like Johnson, is also a Ford loyalist.

Ford's star driver Mark Winterbottom currently sits second in the Championship after a heated battle with Jamie Whincup this season, which saw him earn four race wins, while his Pepsi Max Crew teammate Chaz Mostert won the Supercheap Auto Bathurst 1000 with Paul Morris.

It was FPR's second straight victory at Bathurst, one of the world's greatest races.

"Some time ago, we called on Ford to clarify their position for 2016 – which they have now done," V8 Supercars CEO James Warburton said.

"Clearly we are disappointed in their decision to cease financial support for FPR beyond 2015. Disappointed for the fans who have so passionately supported the brand for so many years. Disappointed for the team, drivers and other partners who have worked so hard for the Ford brand.

"We understand things are tough at Ford at the moment, but were hopeful they would continue to see the enormous brand value our sport has to them, not to mention decades of Blue Oval racing heritage – particularly at a time when we are growing so strongly.

"The good news for our fans is that there will still be six Falcons on the grid in 2015. With many of our teams being privateers, with no factory support, we are confident that there will be Fords on the grid in 2016 and beyond. In any case, we look forward to welcoming Ford back to our sport at some time in the future."
Unfortunately, with Ford ending production of the Falcon that serves as the basis for their V8 Supercar by 2016, they felt as if their marketing funds would be better used on improving customer experience and their growing product lineup.
Ford Australia marketing chief David Katic explained the decision to motoring.com.au:
We are very aware of what some people will think but all I ask is that people understand this is not about cost saving, this is about investing in areas that we think consumers will value as well.

We have tangible proof of those investments; it's not just saving money and that's it. It's new products, customer experience etcetera.

We understand the passion but we think we need to make some of these difficult decisions – and they are difficult.
Uh-huh. Passion. I think I might be feeling a little more passion about those sweet Volvos right about now.
Mark Winterbottom and Chaz Mostert will continue to campaign Ford Falcons with FPR next year, although Ford will have a reduced commercial agreement with the team starting in 2015. Marcus Ambrose will also race a Ford Falcon for the privateer DJR Team Penske effort.
Ford has been lessening their support of V8 Supercars for a while, dropping DJR as a factory team and jettisoning Stone Brothers, which has now become the Erebus Motorsport privateer team. Ford Performance Racing was their only factory team left.
Historical nemesis Holden has trimmed its works support in recent years as well, leaving Red Bull Racing and the Holden Racing Team as their only two factory efforts.
Other manufacturers Nissan and Volvo have gotten involved in recent years, and Lexus may join the party. That's right: there could soon be a Lexus that doesn't suck that isn't made of quite the same percentage of unobtanium and unicorn farts as the LF-A.
Additionally, privateer effort Erebus runs a pair of Mercedes-Benz E63 AMGs.
When Volvo has more of a presence in V8 Supercars than Ford, you know the whole shebang is børked.
To add to the sacrilege, the V8 Supercars announcement hints that new Gen2 rules for 2017 may not only allow body styles other than the traditional sedans that we all know and love, but also engines that aren't V8s.
Let that sink in for a second.
YOUR NAME IS V8 SUPERCARS.
You know how much worse it feels when someone says that they're disappointed in you as opposed to point-blank saying that they're mad?
Yeah. I'm going to go with "disappointment." Disappointment is exactly the feeling that I am experiencing right now about all of this.
Photo credits: Getty Images