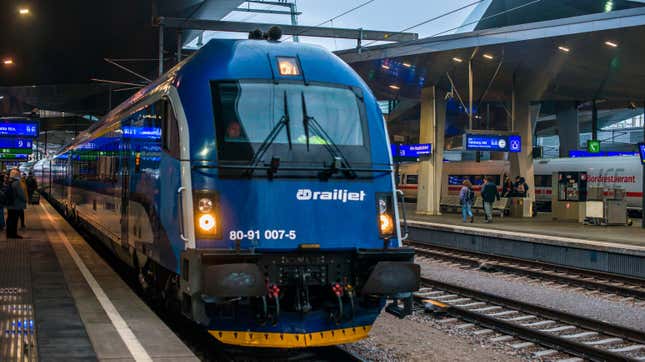 Authorities in Austria arrested two people in connection with an incident on Sunday where Adolf Hitler speeches and shouts of "Heil Hitler" were broadcast over a train's public address system on the way to Vienna.
In what must have been an absolute laugh riot for the pair of alleged shitheads, folks on the high-speed Railjet train from Bregenz to Vienna were treated to snippets of Hitler's speeches as well as shouts of "Sieg Heil" and "Heil Hitler," from the train's intercom. According to the Guardian, the national railway company and police figured out how they did it by reviewing security footage on the train:
One of the passengers on the train at the time was Schlomo Hofmeister, the community rabbi of Vienna. In a tweet, he said he was disturbed by the fact that some other passengers laughed when they heard the words "Sieg Heil", and that the train staff seemed to ignore the goings-on.

[...]

The national railway company ÖBB ruled out a cyber-attack on the train's intercom system. Instead, the pair are believed to have opened the train conductors' cabins with a key owned by the train company's employees.


"They will have used the communication point in the usual manner, with a key, and then simply put a mobile phone next to it," a spokesperson told Austrian newspaper Der Standard.

Just last year, Austria announced plans to strengthen its laws against the use of Nazi imagery after the symbols began popping up at COVID-19 lockdown protests, Reuters reports. Protesters co-opted the yellow star of David that Jews were forced to wear to identify themselves as enemies of the Nazi state during World War II, writing "unvaccinated" across the stars. Austria bans the gross trivialization of the Holocaust, which is consider too high a bar for the use of the stars.
"Any trivialisation of National Socialist genocide and any Nazi crimes against humanity of the Holocaust, even if it is only trivialisation or denial of part of the Holocaust, must be punished and cannot be tolerated," justice minister Alma Zadic of the Greens told a news conference outlining planned changes.

Cases such as vaccine opponents wearing yellow stars do not fall under the law because it only bans "gross trivialisation" of the Holocaust, she said. The conservative-led government would therefore propose removing the word "gross", she added.

Remember kids: Nazis sure as shit are not transportation enthusiasts and every single one can fuck right off.