IndyCar's lovable Canadian and future "Dancing With The Stars" participant James Hinchcliffe was one of four drivers penalized for interfering with another driver's qualifying lap at Watkins Glen. Even after an appeal, IndyCar stuck to their ruling that Hinchcliffe impeded Will Power's lap. Now he's really mad, eh?
IndyCar penalizes any driver who stops and causes a red or yellow flag out on track during qualifying, however, Hinchcliffe explained to Motorsport.com that he didn't come to a full stop but a yellow came out anyway, and that Power didn't slow down enough for such a yellow regardless:

I didn't stop moving forward, but the yellow came out anyway, so that is their mistake.

Even if a yellow flag does come out, all cars in that sector must slow down at least 15% from their best sector time. Will [Power] clearly ... didn't do that because they didn't think it was a yellow because it wasn't a big deal. So he should have been penalized if I was penalized.
Hinchcliffe explained that IndyCar penalizing him but doing nothing about Power speeding through an alleged yellow zone proves that they don't even understand their own rules. As quoted by Motorsport.com:

IndyCar can't read their own rulebook.

They haven't penalized us improperly in like a week so we were probably [overdue] for it. At a track where it's going to be tough to pass, it's really disappointing. We put a lot of work into the aero car, made it a lot better than yesterday and we had P4 in that session.

We lost our fast time on an incorrectly enforced rule.
Saying you're overdue for a poor call doesn't exactly tell me there was much faith in IndyCar's officiating to begin with.

G/O Media may get a commission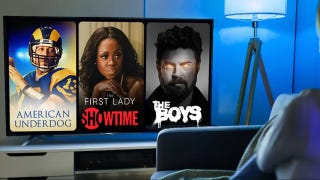 UNDER $1
99¢ Prime Video Channels
The others who were penalized for the same offense were also unhappy, but perhaps not to that extent. Takuma Sato described it as a "disappointing session" in an IndyCar press release, and Graham Rahal apparently read from the same script, saying that he was "very disappointed with the ruling."
Hinchcliffe's Schmidt Peterson Motorsports teammate Mikhail Aleshin described his penalty in great detail in a team statement, which was cleverly titled "SPM Left in a New York State of Disbelief After Qualifying" on SPM's website:

I think that I did all that I could. I thought that I just needed to let the other drivers go so that I could have a clear lap. I knew that Montoya was behind me so I moved to the right. You can see it on the replay. They're far away and I'm moving to the right. INDYCAR gave me the penalty when I had two identical laps and I was in the top six. They didn't take only one lap, they took away two fastest laps, even though I moved to the right. I think it's not very fair. I have no words.
Aleshin's penalty came after he had qualified into the last session Fast Six shootout among the fastest drivers, but this penalty meant he'd start sixth—period—with no faster laps counted.

The post-qualifying situation was awkward enough that second-place qualifier and allegedly held-up man Will Power suggested extending qualifying so as not to have cars on top of each other here, writes Motorsport.com. Given that Watkins Glen has been an absurdly quick track for IndyCar, that's not a bad idea at all.