I'm all for backyard engineering. It allows you to re-purpose what is otherwise useless to anyone else. That's why this one-of-a-kind twin turbo, SHO V6-powered Merkur XR4Ti needs to be find a home with someone who will appreciate its quirkiness and its absolute, unrelenting insanity.
Here's a quick history lesson: This car started life as a 1988 Merkur XR4Ti, a carbon copy of the Ford Sierra sold in Europe. But unlike the European counterpart, we never got the firebreathing Sierra Cosworth. Instead, we got a car powered by the same turbocharged 4 cylinder as the Mustang SVO and Turbo Thunderbird - an engine derived from the most epic of performance cars - the base model Ford Pinto.
The seller of this car apparently had enough of the car's less than stellar performance figures and apparently went hard AND went home, as it looks like the work was done entirely in his garage.
According to the seller, here's what was done to this car:
1988 Merkur Xr4ti with SHO 24v 3.2 twin turbo engine with less than 1000 miles on the engine and parts.
Engine

Ford Taurus SHO Engine 3.2 24v v6

Compression 9:1 Wiseco Pistons

Stock Rods

Lightly Port Heads

New Valve seat and Valve stem seals

Balanced Crank, Flywheel and Rods

Custom made engine mount brackets

Custom made oil pan

Custom made oil pick-up

Earl Oil Cooler

Transmission

Toyota Supra Turbo 5 speed Transmission

Hydraulic clutch pedal

Custom made Bell housing

Balanced Flywheel

Stage 3 clutch Kit

Custom made drive shaft and adapter

BMW LSD 4:11

Custom made axles

Exhaust System

Custom tubular turbo Manifold

Custom turbo down pipes

Heat wrap down pipes

3 Exhaust Silencers

Chrome Exhaust tips

Turbo

2 T04E T3/T4 .48 A/R 50 TRIM Turbo/Turbocharger compressor 300+HP Boost Stage III

Front mounted intercooler

Custom intercooler piping

Tial 40mm Blow-off Valve

Brakes/Suspension

4 Pot Nissan brake calipers

17x7 Fronts

Contour Rear brake calipers

178x.5 Rear

19mm Front Sway Bar

16mm Rear Sway Bar

Complete Bushing Kit

Sumitumo 225/45 ZR Front

Sumitumo 245/40 ZR Rear

Air/Fuel

75mm Throttle Body

70lb Injectors

Custom made intake manifold

Fuel Pressure regulator

Stand Alone Engine Management System

Wolf engine management

Coil on plugs

Body

RS Headlights with HID

RS Grill

RS500 Bumper

RS500 Whale Tale

The rear hatch glass needs to be replaced; right now I have an 85 glass in its place. Also the quarter glass needs to be replacing too, but have it tape up.

Also the gas gauge doesn't work, I try to put in an aftermarket gas gauge sender and reader in there GM style sender and reader. And hydraulic clutch pedal is very low.
G/O Media may get a commission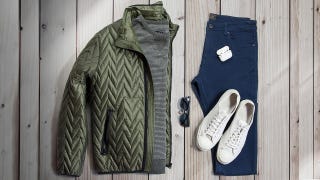 60% off
Jachs NY Fall Sale 60% Off
You can see a more complete album of the car, the parts included, and a few videos of the car running here.
The car does need some work, and the pictures aren't the best, but with this extensive parts list, and with the bidding currently under $2500, why pass up an opportunity to have a truly unique, light, and characterful sleeper?
If you're interested in more bonkers horsepower per dollar values, check these out:
---
Tavarish is the founder of APiDA Online and writes about buying and selling cool cars on the internet. He owns the world's cheapest Mercedes S-Class, a graffiti-bombed Lexus, and he's the only Jalopnik author that has never driven a Miata. He also has a real name that he didn't feel was journalist-y enough so he used a pen name and this was the best he could do.