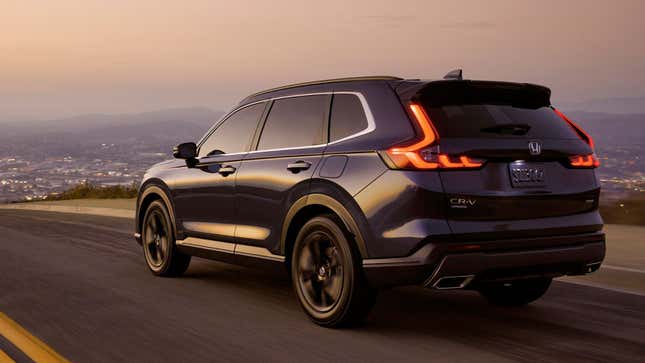 There are signs that this bonkers car market is improving and while some brands are using incentives to make prices a bit more palpable what people are actually paying is another story. Right now most dealers know that advertised prices over MSRP isn't the best move, so some stores are just moving these markups to a different line item.
If you are shopping for a new car there are some "deals" to be had if you can be really flexible on the make and model you target. However, if you are aiming for an import crossover, a sticker price deal is usually a best-case scenario. This is especially the case if you want one of those crossovers with a hybrid or PHEV powerplant.

For the past two years or so, inventory was super thin so dealers could charge pretty much whatever they want and with so few cars and a lot of potential customers, popular models were selling at a premium. Now that inventory is improving for most brands, it's harder for dealers to justify prices over MSRP, so some of them have shifted to a new tactic… massively overpriced accessories.

Below are excerpts of deal sheets that my team provided various customers in different metro regions for three different cars. For almost every case, we encountered the same conversation with several stores that said - "We aren't charging markups," only to provide a quote with thousands of dollars in additional charges that essentially "marked up" the total price of the car.

This one is a Toyota RAV4 Hybrid in the Seattle metro.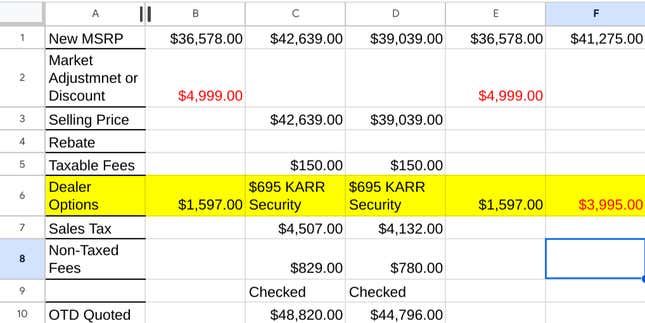 As you can see some of these stores charged a markup and added over $1600 worth of bogus add-ons while the worst offender has almost $4,000 in options. Our customer decided the sticker price deal with the $700 security add-on was "reasonable" to get a car soon so they went that route.
This sheet is for a Hyundai Tuscon Hybrid in the DC metro.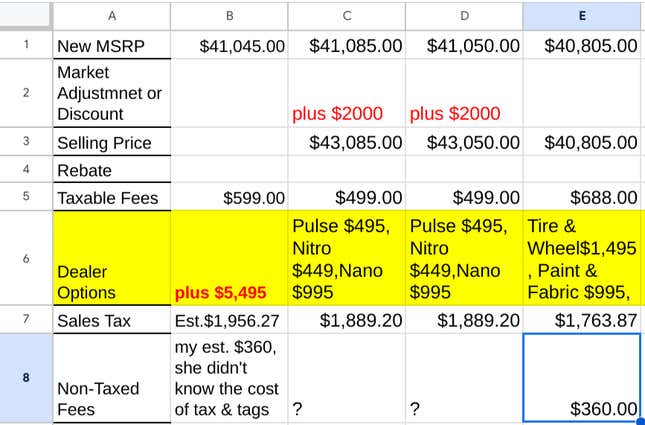 Like the Toyota above we encountered stores with markups + accessories, but the worst offender had almost $5,500 in add-ons that couldn't really be articulated clearly. We ended up finding a delaer in Deleware with an incoming car at MSRP and no overpriced accessories.
Saving the best for last are California Honda dealers for a CR-V Hybrid.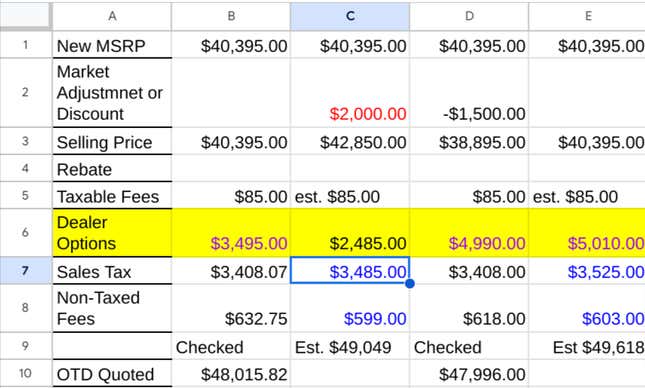 You will notice that one dealer "offered" a discount of $1,500 on one of their units only to negate that savings with almost $5,000 in add-ons. The hilarious part about this case is when I spoke with the dealer who had over $5,000 in accessories and I asked them why that was so high, their answer was "Well, we aren't charging a markup." What is interesting about the Honda situation and we have found this in several areas, is that most Honda stores will not advertise markups on regular cars like Accords and CR-V. I have been told by dealer contacts that Honda has some "rules" about advertising over sticker price, so these excessive accessory charges are the dealers' way of getting around that.
Of course, this tactic of charging sky-high prices for accessories like mud flaps, window tint, and "paint protection" is not new and has been around for some time. The key difference is that a few years ago, the strategy would be to offer a big discount and take most of it away with the back-end fees, whereas today dealers are claiming to have a "fair" price only to provide a total that tells is anything but fair.

However, just as in previous markets that were more competitive it is critical that buyers compare complete "out-the-door" prices and not just sale prices to get a real understanding of which dealers have the most competitive offer.
---
Tom McParland is a contributing writer for Jalopnik and runs AutomatchConsulting.com. He takes the hassle out of buying or leasing a car. Got a car buying question? Send it to Tom@AutomatchConsulting.com