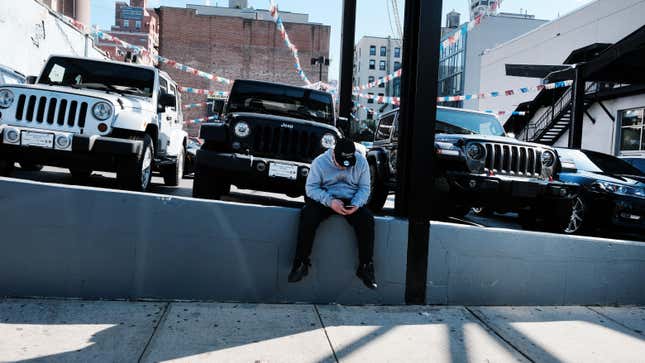 For the second time in as many months, the average transaction price (ATP) of new vehicles sold in the U.S. fell, and it's all thanks to incentives. That means it still remains below the average manufacturer's suggested retail price, according to data from Kelley Blue Book. The ATP of new vehicles sold in April fell 0.03 percent — a whole $14 — from March to $48,275.
What Car Should You Buy: Luxurious Efficiency Edition
That may not sound like much, but it's something. Those two months represent a solid reversal from the previous 20 months, where new vehicle ATPs were steadily above average vehicle MSRP. Looking further into it, ATP in April was a whopping $378 below the average MSRP, KBB says. Again, that doesn't sound great, but when you take a look at April 2022 — when APT was sitting at $600 above sticker — it's a welcome improvement.
This all has to do with incentives. According to KBB, the increased supply of new vehicles is allowing manufacturers to increase incentives – or cash on the hood. Incentives apparently increased to an average of $1,714 in April. That's a $170 increase over Mach, and it represents 3.6 percent of the average vehicle transaction price.
The organization's data revealed that the ATP for non-luxury vehicles in April 2023 was $44,750. This is where a bit of bad news comes in. That number represents a $461 increase from March, and it's a 5.2 percent increase year-over-year. So, while cars are indeed selling for under sticker, the sticker is unfortunately higher than it used to be. Some of the biggest ATP winners were Chrysler, Ford, Honda, Nissan and Toyota. They saw ATP declines between 0.2 percent and 3.5 percent month over month. Kia and Hyundai were on the other end of the spectrum because of inventory levels.
It's a slightly different — and better — story for luxury buyers. From March to April of this year, ATP dropped $1,605 to $64,144. That's far more solid than non-luxury buyers. It also marks the first time in 11 months that luxury vehicles' ATP dropped below $65,000. It's a much needed win for wealthy people.
However, that drop is small potatoes when you look at ATP for electric vehicles. KBB says the average transaction price for EVs was $55,089 in April. That's a 7.5 percent decrease — which works out to $4,464 — over March. It's also over $10,000 less that the EV ATP in April 2022. Progress is beautiful.