Y'all. I'm sick of seeing the frankly disgusting prices that some of the cars go for on the Bring A Trailer. Like this Honda Civic. And this Honda Civic, too. And also for this 1997 Acura Integra Type R, which just sold for $40,750. This is out of control.
And! As an additional fun note, this Integra isn't even in, like, mint condition. The listing says it has 58,294 miles on the clock, which means it's definitely been driven, despite its one-owner status.
I'm not knocking the Integra Type R, by the way—this one or any other one. I'm sure it drives great and will bring its new owner much happiness and joy like it's supposed to.
In the meantime, though, let's see what other Good Cars $40,000 could have bought instead.

2019 Subaru WRX STI
G/O Media may get a commission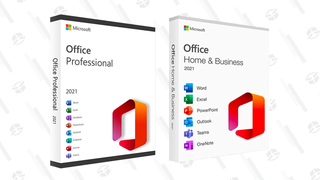 89% off
Microsoft Office Professional 2021 Lifetime License
Price: $36,565
2019 Ford Mustang GT Premium Fastback
Price: $39,355
2018 Stinger GT
Price: $38,350
2018 Chevrolet Camaro SS
Price: $37,995
2018 Volkwagen Golf R
Price: $39,785
2018 BMW 230i
Price: $34,950
2018 Honda Civic Type R
Price: $34,700 (if you can avoid a dealer markup)
2018 Dodge Challenger R/T Plus
Price: $36,995
2018 Mazda Miata/RF
Price: $25,295 and $31,910, respectively
2018 Fiat 124 Spider Abarth
Price: $28,295
2017 Fiat 500 Abarth
Price: $19,995
See? Look at all the brand-new cars that you could have gotten for under $40,000. For some of these, you could have bought a car and then saved thousands of dollars as well.
But, of course, buying a car is a highly subjective experience. To each their own. Just know that there are options out there.