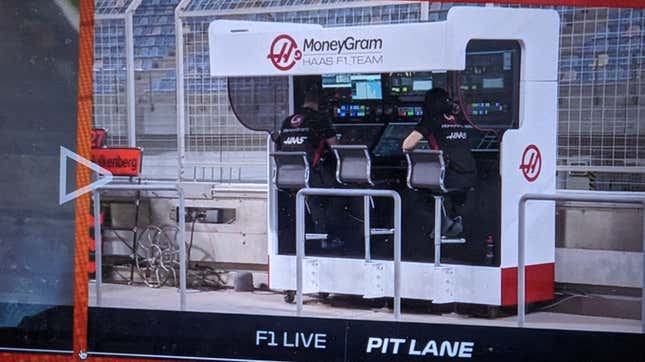 The 2023 Formula 1 season has kicked off with pre-season testing this week at Bahrain International Circuit, and while most folks are looking to see who's setting fast laps or putting in long, reliable runs, one stat caught my eye more than anything else: Moneygram Haas F1 is saving a whopping $250,000 this year by making its pit wall setup way smaller than last year — and way smaller than every other team on the grid.
The beauty of pre-season testing coverage (which you can watch with an F1TV subscription) is the fact that you get a lot of fascinating tidbits to nerd out over; in this case, a jaunt down the pit lane meant we got a clear view of Haas' pit wall setup, where engineers, strategists, and other key people sit during the race to oversee the performance of the cars. And this year, that pit wall is small. As in, three seats compared to the normal six or more.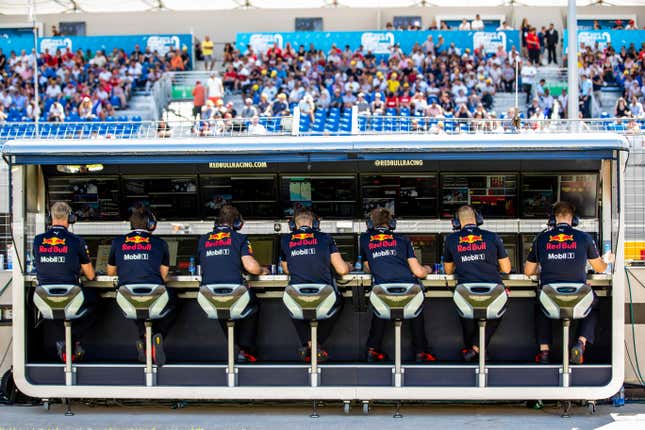 Why? Because it's going to save the team about $250,000 this year.
F1TV initially hypothesized that this was due to cost cap reasons, but that's not quite true; travel expenses aren't covered by the cost cap, since travel expenses aren't directly related to the development of the car.
So, I reached out to Haas' press team to check in, and according to them, the logic behind the reduction is pretty simple: The team realized it wasn't using all those seats during the race, so cutting down on its pit wall setup would save on freight costs, which have "escalated wildly" this last year.
Part of that comes down to the fact that the shipping industry is still recovering from the chaos of COVID-19. Part of that also likely comes down to the fact that F1 has planned a whopping 23 races this year, and with the way races have been scheduled, teams can expect to travel about 80,000 miles between races alone. That's not factoring in any returns to the factory between races, either. Consolidating something like the pit wall is a pretty simple way to cut down on expenses, especially for a team that operates on a smaller budget than, say, the multi-million dollar might of Red Bull.
Haas also emphasized its dedication to sustainability to me as well. The series itself has been making an effort to reduce its carbon footprint (which is a bit ironic considering its record-breaking travel this year), and each team has found ways to contribute as well. For Haas, a smaller pit wall means a reduction in emissions — but I imagine that money is a pretty damn attractive prospect as well.