For the second time this week, I find myself reeling from the buzz of learning about another obscure car I never knew existed. This one also hails from South America, and while it's still satisfyingly weird, inside there's some very familiar oily bits. The car is called the Emis Art, and who knows what makes it so familiar?
Let's just look at this thing for a moment. At first glance, it almost seems like a little Japanese Kei car, like an 80s Honda City — tiny, simple, practical, with the sort of proportions that suggest a conventional FWD drivetrain. Though the wheels are a little bigger than you'd expect, giving it a either a somewhat sportier air, or a resemblance to a Golden Retriever puppy, depending on how you look at it.
And then there's the fact that there's no grill. Hell, there doesn't seem to be vents of any kind on this thing at all! Is it electric?
It's not electric. It's better. It's a Beetle.
G/O Media may get a commission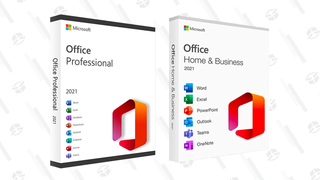 95% off
Cyber Monday - Lowest Price Ever - Microsoft Office Lifetime License
Well, it's a Beetle flat-four 1600cc, twin-carb engine tucked back there, and Beetle twin-torsion bar suspension up front, along with a bunch of other VW parts, like a transaxle from a VW SP2, dashboard from a Gol, and some Brasilia lights, and various Passat bits. The glass came from a Chevette, and the taillights are from a Fiat Panorama, flipped upside-down.The body and chassis are unique to the car, the body a clean, hatchback-looking (it's not, really) design and the chassis an interesting double-Y backbone.
I still can't really tell where the engine gets its air; I'm guessing there must be some sort of underbody scoop feeding air to the fan and carbs.
The car was designed in the mid 1980s, the brainchild of, of all things, an orthodontist named Alfredo Soares Veiga. Incredibly, he now even seems to have a Yelp listing. Veiga was inspired by the equally diminutive, equally VW-powered Mini Dacon 928 (more on that car here soon). As Veiga himself told this Brazilian car site:
It was the early '80s when I saw Nelson Piquet parking the first Mini Dacon in the paddock of the racetrack of Rio de Janeiro Do not resist and I got close, I opened the door and sat behind the wheel I was amazed and thought to myself…I will do a car! After a gestation period of about nine months, was born ART. I made ​​earlier an independent production and then I joined the Emis, a traditional producer of buggies and other special vehicles, here in Rio. In mid-1987 ended production and it's wonderful and very gratifying to see the ART still parading around in this Brazil. I have the first car assembled, chassis 00001, working and being used almost daily.
So, like the good tooth-straightener said, he designed the car, made around a dozen on his own, and then sold the rights to Emis, a maker of VW-powered dune buggies for more volume production. The 'volume' in question was never that significant, with only about 153 made by the time production stopped in 1987.
Predictably, I'm pretty smitten by this little car. I think it looks pretty great, and seems to fill a sort of Brazilian 1980s Smart Car niche. It's primarily a 2-seater, but some did come with small, kid-sized seats in the back, but usually the rear of the car would likely be used for cargo. There was a small trunk up front, but the full-size spare did seem to eat up over half of it. If you trust your tires and do without a spare, though, it's a perfectly usable little trunk.
According to contemporary reviews, the car didn't drive to badly at all. Quatro Rodas said the Art had good grip, neutral handling, and only oversteered when really pushed. They also found it nearly as quick as some of its more established competitors like the Ford Escort XR3, most likely because the Art only weighed about 1600 lbs.
A rear-engined, air-cooled, light, good-looking city car designed by an Orthodontist. What's not to love here?
Man, I have got to get my ass to South America already.
---
Contact the author at jason@jalopnik.com.