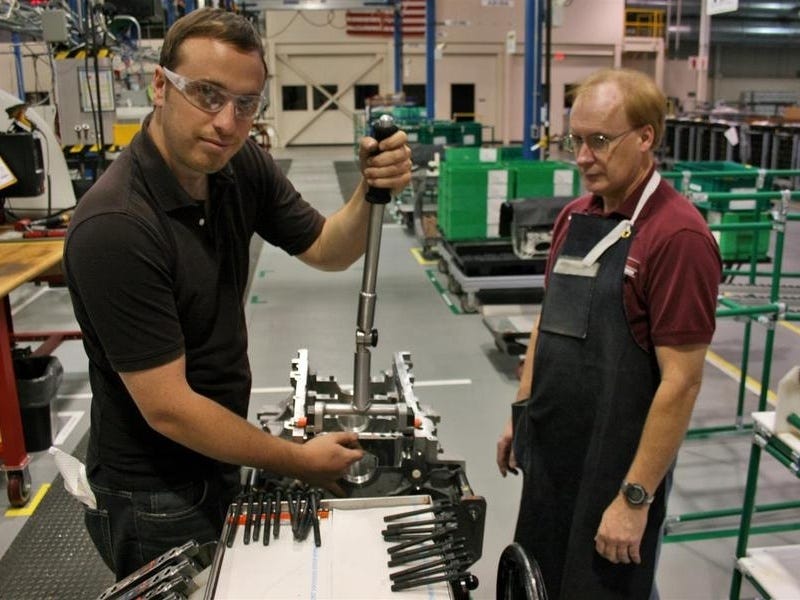 Way back in January we broke the news GM planned to offer a build-your-own engine program (like this) for the Corvette ZR1. Now it's official. Corvette buyers can choose to build the engine for their very own ZR1 or Z06.
Remember when we hand-built a Corvette ZR1 engine at GM's Performance Build Center? Now GM's announced customers can do it too. Corvette buyers can now opt to help GM save money on labor cost have a once-in-a-lifetime opportunity by building the engine destined for their very own ZR1 or Z06.
Just like when we built a 638HP Corvette ZR1 engine, each customer for what GM's dubbing the "Corvette Engine Build Experience" will be accompanied and guided by one of the experienced craftsman on the line in building the engine that'll go in their car. Basically, the buyer will be doing the work and a GM tech will make sure nothing gets screwed up. Available for assembly is either the ZR1's 6.2-liter supercharged LS9 or the Corvette Z06's 7.0-liter naturally aspirated, 505 HP LS7.
The video you see above shows Mike Priest (the guy who's built more ZR1 engines than anybody) putting together an LS9 in time lapse. So now if you waltz into a dealer and order one of these babies, make sure to check the "GM understands its Corvette customers and wants them to be happy" box. The added cost of $5,800 is likely worth every penny.