The Morning Shift
All your daily car news in one convenient place. Isn't your time more important?
This is the Morning Shift, our one-stop daily roundup of all the auto news that's actually important — all in one place at 9:00 AM. Or, you could spend all day waiting for other sites to parcel it out to you one story at a time. Isn't your time more important?
---
1st Gear: GM, Peugeot In Talks Over Global Alliance
Peugeot, Europe's number two car maker, said it is in talks over potential cooperations and alliances but did not name its possible partners. French online newspaper LaTribune.fr, citing an unnamed source, that Peugeot was in "advanced alliance talks" with General Motors, although no agreement had been reached. The online newspaper reported the discussions with GM began several months ago and go beyond specific production partnerships of the kind PSA already has with automakers including Ford, Toyota and BMW.
---
G/O Media may get a commission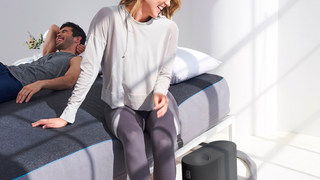 Eight Sleep Pod Cover
2nd Gear: GM Launches New "btw" Blog To Provide Perspective
Speaking of GM, Selim Bingol, the automaker's head of PR and the man in Detroit voted most likely to walk by an auto journalists and not be noticed, launched a new blog yesterday. It's called "btw" — which, after we're certain was much debate by GM engineers, was defined as internet chat speak for "by the way." The about page claims it's "a blog created to share our views on news and topics of interest affecting General Motors, the auto industry and the people who care so much about both. Written by various GM Communications leaders, our posts are intended to provide perspective and context." The first story they're providing "perspective and context" on? Whether or not you can put a gun rack in a Chevy Volt.
---
3rd Gear: Mercedes-Benz S-Class To Spawn Five Variants
Autocar reports this morning that the Mercedes-Benz S-class line-up is set to expand to include five variants in the next two years. The standard sedan will be followed by a long-wheelbase variant, as well as two super-luxury Pullman versions, stretching to six meters or more in length, to fill the void left by the soon-to-be-axed Maybach range. Want to know more? Go here.
---
4th Gear: Dr. Z. Shows Record Daimler Profit, Gets Pay Cut
Speaking of Mercedes-Benz, Bloomberg reports that Daimler reduced the compensation of Chief Executive Officer Dieter Zetsche despite posting record profit in 2011. According to Daimler's annual report, Zetsche's reward for 2011 is currently calculated at 8.65 million euros ($11.5 million), including fixed salary, bonuses and long-term stock options, down from 8.69 million euros for 2010. But, hey, Zetsche's base salary rose to 2.01 million euros from 1.53 million euros. So he's got that going for him.
---
5th Gear: Toyota Teases FT-Bh Concept
Toyota has just released two teaser images of a concept car called the FT-Bh that it will display at the Geneva Motor Show in two weeks. They're so thrilling we're only going to be able to show you one — out of fear that the excitement will overwhelm you.
---
6th Gear: Next Holden Commodore Might Be A Smaller Car
Mike Devereux, the General Motors vice president responsible for Holden hinted to The Australian Financial Review that the automaker's Aussie arm is looking to produce a smaller car than the current Commodore at its Australian plant at Elizabeth once the next-generation 2014 VF Commodore comes to the end of its life later this decade. The reason? Holden has to go with "the vehicle requirements and buying patterns of the 21st century." We assume that means more like the Chevy Sonic and therefore less awesome. See, this is why we hate progress.
---
Reverse:
⏎ System upgrade causes problems for GM's OnStar. [Fox News via LeftLaneNews]
⏎ Why Chrysler's 'Halftime in America' Needs a Second Act. [AdAge]
⏎ Are bad cars going extinct? [Fox News]
⏎ Destination, home: How fully autonomous driving might come sooner than we think. [Digital Trends]
⏎ Ford Pours $3.8 Billion Into Pension Plan. [Reuters via CNBC]
⏎ Can Danica win the Daytona 500? [Sports Illustrated]
⏎ GM head to donate $1M to Habitat. [Detroit News]
⏎ Flood of low-end luxury cars aims to batter BMW 3 Series. [USA Today]
---
Today in Automotive History:
On this day in 1959, Lee Petty defeats Johnny Beauchamp in a photo finish at the just-opened Daytona International Speedway in Florida to win the first-ever Daytona 500. The race was so close that Beauchamp was initially named the winner by William France, the owner of the track and head of the National Association for Stock Car Auto Racing (NASCAR). However, Petty, who was driving a hardtop Oldsmobile 88, challenged the results and three days later, with the assistance of news photographs, he was officially named the champ. There was speculation that France declared Beauchamp the winner in order to intentionally stir up controversy and generate publicity for his new race track. [History]
Show us your tips!
Got tips for our editors? Want to anonymously dish some dirt on a competitor? Know something about a secret car? Email us at tips@jalopnik.com.
Lost in our new layout?
Click here for the Opposite Lock or Tips forums. Want a more "blog-like" look? Click the button up top next to "Top Stories."
Get more Jalopnik!
Want even more Jalopnik? Want to know which of your friends read us? "Like" us on Facebook and follow us on Twitter.