We all know it's now official. Pontiac is dead and GM's CEO confirmed the Pontiac G8's death, so what's to come of the RWD Zeta platform? GoAuto says it'll carry on. GMC Denali ST anyone?
If you haven't guessed, or you've been living under a rock since our inception, we love us some ute's and when Pontiac showed us the Pontiac G8 ST concept last year, we just about wet ourselves. They took our dreams away (They killed Kenny, you bastards!), but we're once again hopeful for its return.
It's said platform designer Holden will potentially lose close to $1 billion in annual profit if the long wheelbase (the short wheelbase underpins the Camaro) Zeta platform leaves our shores, which is why GM is trying to find another way to keep the platform alive. Our first idea would be to re-style and re-brand the Pontiac G8 ST as the GMC Denali ST depicted above, especially given the currently shaky full-size truck market and considering the mid-size truck market is somewhat pointless right now. A light-duty truck is just what GMC needs.
G/O Media may get a commission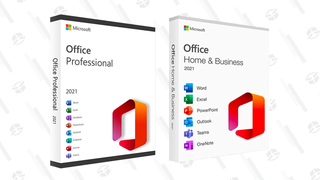 95% off
Cyber Monday - Lowest Price Ever - Microsoft Office Lifetime License
Other examples of where the long-wheelbase Zeta platform could be used is to underpin the next generation STS/DTS replacement. This was initially in the playbook, but when gas prices rose, GM quickly shoved that idea under the rug. We say it's still a viable plan. Another idea in need of a case study would be to bring the Middle-Eastern/South American market Chevy Caprice/Lumina over or just give the Pontiac G8 a quick face lift. We've previously had wet dreams of a big-bodied, LS3-powered Chevy SS model to go with our techno-retro new Camaro thank-you-very-much.
Another option would be to bring the Chinese-market Buick Park Avenue to our shores, though we're not quite sure how Grandma and Grandpa would feel about switching from their plush Lucerne to a semi-rough riding rear-wheel-drive sedan. Hell, maybe they'd just remember the good ol' days of luxo-motoring and like it.
However GM decides to market the Zeta platform, we'll welcome it because as we all know, they need to put a little more excitement in their product lineup and with plenty of other FWD econo-boxes in the portfolio a nice V8 RWD sedan (or Ute!) would supplement nicely. [via goauto]