The Morning Shift
All your daily car news in one convenient place. Isn't your time more important?
This is The Morning Shift, our one-stop daily roundup of all the auto news that's actually important — all in one place at 9:30 AM. Or, you could spend all day waiting for other sites to parse it out to you one story at a time. Isn't your time more important?
1st Gear: Chrysler Dealerships Must Be Warmer
Last night it was so cold I slept inside my oven. I don't want to go outside. I called in a 'snow day' yesterday and it only snowed about a 1/4 inch. I'm not alone. Everyone is fearful, and those fearful people aren't going out buying cars. They're buying Jeeps.
So, so so many Jeeps. Total year-over-year sales are about break-even with last year but Jeep is up 47% Why? The Jeep Cherokee, of course, as well as other people Jeep models being gobbled up because we're somehow convinced AWD saves us from winter's steely touch.
G/O Media may get a commission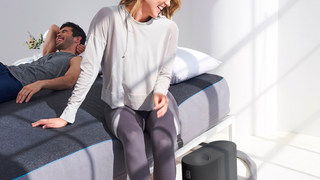 Eight Sleep Pod Cover
People are also buying Lincolns, because they were buying no Lincolns this time last year. The same goes for Maseratis and Smarts.
They're pretty much not buying anything else, though.
2nd Gear: And What Of Ukraine?
There are a lot of customers in Russia, but not a ton of well-established car companies, which is why most of them are partnered with companies like Ford, Nissan, GM, et cetera. So what happens if we're locked in a new cold war with Russia? Per Bloomberg:
"The latest situation is very volatile and we are closely monitoring it," Stephen Odell, Ford Motor Co.'s European chief, said at the Geneva auto show today. "We won't do anything short term. It's too early to jump to any conclusions." Russia is important for carmakers, with 2.78 million vehicles sold in the country last year. By comparison, in 2013 consumers bought 2.95 million cars in Germany, Europe's largest market, and 2.26 million autos in the U.K.
3rd Gear: Everyone Wants The Tesla Gigafactory
Who wouldn't want a Tesla factory? The company prints money and they're hoping to bring billions of dollars and 6,500 "direct" jobs to some state's local economy. The possibilities? Nevada, Arizona, New Mexico, and Texas.
They were picked because they've got climates that allow a large amount of wind turbines and solar panels — i.e. wind and sun. They were maybe also picked, or at least announced, to extract a pound of flesh from one of those states. As USA Today points out:
For now, Musk seems intent on driving a hard bargain. Disclosing the names of the four states in contention apparently is aimed at driving the best possible deal from one. With the "pizzazz factor" of billionaire Musk and a connection to high-tech electric cars, incentives being laid out by states could reach new heights — including $200 million to $400 million for site infrastructure and worker job training, and $300 million to $600 million in tax breaks, Cuneo estimates.
My money is on Texas, with has been active in luring auto jobs to the state. They're also the only state with their own energy grid.
4th Gear: China Should Kill The Foreign Stake Rule, Says Chinese Carmaker
You ever notice how just about every foreign car company selling cars in China is doing so through a local car company? Hell, Volkswagen is partnered with two separate car companies. That's because of a law requiring car companies to build cars through joint-ventures with local, typically state-owned companies. Here's Chinese Volvo chairman Li Shufu on why that should change.
"We should let the market decide and form real competition between Chinese companies and foreign companies," Li, 50, who is also chairman of Volvo Cars' parent, Zhejiang Geely Holding Group Co., told reporters at a briefing in Beijing yesterday. "The interests of the consumers and the competitiveness of the country are being undermined with the current setup."
While nothing is probably going to change soon, it's an interesting attitude and a sign that at least some in China think they can compete on their own.
5th Gear: GENEVA MOTOR SHOW!
It's the Geneva Motor Show, which is always one of my favorite auto shows because of all the weird European stuff. Our Mate Petrany is there and will be bringing back news all day.
Reverse: A Great Day
On this day in 1936, Jim Clark, who will dominate Formula One (F1) racing in the mid-1960s and win two F1 world championships, is born in Scotland.
[HISTORY]
Neutral: Will Sales Turn Around Next Month? February, like January, was too cold to buy cars. Does hope spring eternal for a bump in SAAR next month?
Photo Credit: AP Images