Carlos Ghosn is actually out of jail this time, the White House wants automakers to choose between its emissions plans and California's, the U.S. could get some hybrid Jeep models, and Honda wants to fully electrify its lineup in Europe. All of this and more in The Morning Shift for Wednesday, March 6, 2018.
1st Gear: Carlos Ghosn Is Out
Former Renault CEO Carlos Ghosn is out of the Tokyo detention center he's spent the last 108 days in—like, for real this time. Ghosn was granted a $9-million bail on his third try earlier this week after agreeing to be under constant heavy surveillance, but prosecutors stepped in to try to prevent his release.
It wasn't successful in the end, though, and the Wall Street Journal reports that Ghosn walked out of jail dressed as a workman on Wednesday—free from what he called a "terrible ordeal."
That terrible ordeal began with allegations of financial misconduct in November from Nissan, where Ghosn was chairman, and led to a lot of other drama during his time in jail. The Nissan-Renault-Mitsubishi alliance got a whole lot rockier, there was early suspicion that Ghosn was whacked, and, then, after weeks of championing its former CEO, Renault said it, too, found evidence of Ghosn's alleged financial misconduct. It's been a mess, really.
G/O Media may get a commission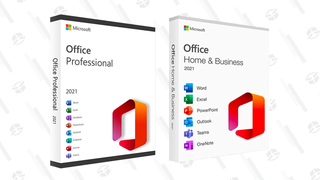 89% off
Microsoft Office Professional 2021 Lifetime License
But getting out of jail is good for Ghosn in terms of cleaning up that mess, no matter how guilty he might or might not be. The WSJ reports that it'll now be easier for Ghosn to work on a defense—something he's already worked on, by overhauling his legal team—since he's able to more freely go through financial documents and other information, some from more than a decade ago.
Here's more on the release, via the WSJ:
At about 4:30 p.m. local time, Mr. Ghosn left the Tokyo Detention House wearing a mask often used by Japanese who have a cold, as well as a uniform with reflective strips like those used by highway workers. He climbed into a small Suzuki van, which drove out of the jail gates and onto the streets of Tokyo, where it was tracked by news helicopters.

Mr. Ghosn later stopped at his lawyer's office in central Tokyo. As he tried to depart in a different vehicle, his car couldn't move for at least 10 minutes because of the assembled media. He was visible in the back seat, having shed his workman's garb and looking somewhat tired but appearing generally in good shape.
Ghosn can't communicate with people overseas on the phone or computer as a term of his release, the WSJ reports, but he's getting enough of a message out there already. In a statement on Tuesday, the WSJ reports that Ghosn thanked those "who have stood by [him] throughout this terrible ordeal" and said he's "totally committed to vigorously defending [himself] in a fair trial against these meritless and unsubstantiated accusations."
2nd Gear: White House Gives Automakers an Ultimatum
For a couple of years now, the Trump administration, automakers and the state of California have been in a fuss over emissions standards in the United States. California, which has long been able to set its own standards, has strict ones, the Trump administration wants to loosen up the standards despite our current climate predicament, and automakers—well, automakers basically don't want to have to build cars for two separate markets, so they're in the middle.
But Bloomberg reports that officials from the Trump administration warned auto executives to pick a side on a conference call last month, saying they need to either support the administration's plan to roll back Obama-era regulations or California's stricter ones. Representatives from the White House and Alliance of Automobile Manufacturers declined to comment, Bloomberg reports, but the story cited five people with knowledge on the matter.
Here's the deal, from Bloomberg:
The request has added to industry anxiety about getting caught in a conflict between Trump and the nation's biggest auto market, the people said. [...]

The Trump administration in August recommend capping tailpipe carbon emissions standards and fuel economy requirements at 37 miles per gallon after 2020, instead of rising to roughly 47 mpg under rules adopted by the Obama administration.

The joint proposal by the EPA and the traffic safety administration also called for revoking California's authority to set its own greenhouse standards for vehicles, a move that could lead to yet another legal battle between Washington and Sacramento.
The call to pick a side came after the administration ended months of discussion between federal and California officials to compromise, saying the California Air Resources Board "failed to put forward a productive alternative." The board said the White House "never responded to [its] suggested areas of compromise—or offered any compromise proposal at all," according to Bloomberg.
3rd Gear: America May Be in for Some Jeep Plug-In Hybrids
The first plug-in-hybrid Jeeps are here, rated at up to 240 horsepower and 31 miles of electric range, and they could be headed for the United States—if there's demand.
Fiat Chrysler unveiled the hybrid Jeep Compass and Renegade at the Geneva Motor Show this week, which each get an electric motor and a new, 1.3-liter turbocharged inline-four engine for the combined 240 HP. The Jeeps have electric-only modes and an electric all-wheel-drive system, and Automotive News reports that production is planned to begin this year on the Renegade and next year on the Compass.
The models are heading to Europe, according to Automotive News, but FCA's European head Pietro Gorlier said they could come to the U.S. if there's enough interest. That's about all Gorlier said, though—Automotive News didn't report any qualifiers or anything FCA was looking for in order to bring them over.
From Automotive News:
The Renegade and Compass plug-in hybrids will be built in Fiat Chrysler Automobiles' plant in Melfi, southern Italy, which currently produces the Fiat 500X small crossover and the gasoline and diesel versions of the Renegade. Starting next year the factory also will produce all European versions of the Compass, which are currently imported from FCA's plant in Toluca, Mexico. [...]

According to market researcher JATO Dynamics, the Compass was the most popular Jeep in Europe in 2018, with 74,740 units sold, up from 15,623 in 2017. It narrowly beat the Renegade, whose 73,275 units were up slightly from 72,238 sold in 2017. The Jeep brand as a whole posted a 56 percent sales gain to 166,586 units.
So, basically, the idea is to buy a lot of Jeeps if we want more, newer Jeeps.
4th Gear: Honda Plans to Electrify Its European Lineup by 2025
The automotive industry is all about setting goals and conveniently forgetting about them when the target date rolls around, but goals are goals, right? The new goal for Honda, then, is to electrify its lineup in Europe by 2025. That's six years from now, in case you thought it was still 2009. (Guilty.)
Automotive News Europe reports that Honda announced at the Geneva Motor Show on Tuesday that it plans for all new Hondas for sale in Europe to be hybrid or battery electric by 2025—the key with the term"electrified," which doesn't necessarily mean fully electric. Still, a goal to phase out fully gas-powered cars in the near future is a big deal.
From Automotive News Europe:
Honda originally planned for electrified vehicles to make up two-thirds of its European sales under a strategy outlined two years ago.

"Since we made that first pledge in March 2017, the shift towards electrification has gathered pace considerably," Tom Gardner, senior vice president of Honda Motor Europe, said during Honda's press conference. "Environmental challenges continue to drive demand for cleaner mobility. Technology marches on unrelenting and people are starting to shift their view of the car itself," he added.

Honda on Tuesday showed the e Prototype, a Mini Cooper-sized two-door hatchback with strong styling cues lifted from the mid '70s Honda Civic. The e Prototype, Honda says, is a preview of its first battery electric car for Europe. The stubby hatchback can travel 124 miles on a full charge, and its battery pack can be 80 percent recharged in 30 minutes, Honda said. Unusual for such a vehicle, the e Prototype is rear-wheel drive.
If Honda does manage to reach its 2025 goal in Europe, the logical conclusion is that other markets would soon follow. We'll just have to see—in six years.
5th Gear: Hyundai Could Suspend Production at Chinese Plant Due to Slowing Car Sales in China
China, the automotive market that once seemed immune to sales slumps, is in a sales slump. Sales have been down for the first time in 20 years, and the market just isn't booming like it has been for so long. Given all of that and the vehicles sitting on lots, Hyundai may suspend production at one of its plants in China.
Reuters reports that Hyundai's considering suspending production at its oldest car plant in China, Plant 1 in Beijing, in reaction to "tumbling sales and massive overcapacity in its biggest market." The word "suspension" is Hyundai's focus there, the automaker said in a statement, "not closure."
From Reuters:
China's auto industry has been slowing after a period of strong growth, hit by a weakening economy and the fallout of trade frictions with the United States. China's car sales contracted for the first time since the 1990s last year and Hyundai's sales in China amounted to only half its total production capacity in the country.

For Hyundai, troubles have been exacerbated by a diplomatic row between Seoul and Beijing that hit demand for South Korean products in China.

A lack of attractive models and strong branding also makes Hyundai vulnerable to competition from both Chinese and global carmakers, analysts and dealers have said.
Reuters reports that Hyundai didn't say when a production suspension in the plant may start, but that the Korea Economic Daily newspaper reports that it could begin as soon as nest month.
Reverse: The First Gas-Powered Car in Detroit
On March 6, 1896, long before Detroit became America's car central, the first gasoline-powered car was passing though the city's streets. Charles King became the first driver of a gas-powered car in the city 10 years after Carl Benz—yes, that one—patented the famous Patent Motorwagen in Germany, according to the Michigan State University library.
Neutral: Does a Plug-In Jeep Crossover Have Appeal in the U.S.?
Would the people flocking to the lots to buy Jeep crossovers go for one that they can plug in, you think?