Former NASCAR and World of Outlaws driver Tyler Walker led cops on a high-speed chase two years ago outside Las Vegas. Walker received a cornucopia of drug and alcohol related charges on top of a failure to stop for the chase, all of which he has yet to appear in court for.
This isn't Walker's first run-in with drugs and alcohol. He failed a drug test after qualifying for a Craftsman Truck Series race at in Charlotte, North Carolina. NASCAR suspended him indefinitely in 2008 for violating their drug policy, only to let him race again after ten months of sobriety.
Per ESPN, Walker even argued for stricter drug and alcohol policing in NASCAR at the time of his return, claiming that getting busted earlier would have helped him get on the right track sooner. Walker explained:
All my life pretty much I had done drugs and struggled with addiction. Until my publicity and all that happened with NASCAR, I didn't really take it seriously. I never really got in trouble. I just had a good time. But until I realized what it was doing to me and how it was affecting my life, I couldn't really change it.
G/O Media may get a commission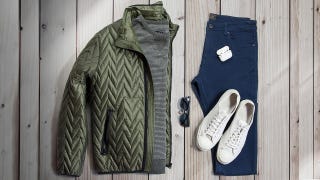 60% off
Jachs NY Fall Sale 60% Off
He had tried to get a Sprint Car ride in the interim under Kasey Kahne, but unfortunately, few sponsors were willing to support Walker's ride because of his fall from grace. This was heartbreaking to both Walker and Kahne, but finally drove home the impact that Walker's substance addiction was having on his life.
Tyler Walker clearly couldn't stay away from the substances that brought him so much pain earlier. In January 2013, he refused to stop for police, leading them on a high-speed chase estimated to reach speeds of 150 mph outside of Las Vegas, Nevada.
The chase winded through Nevada, Arizona and ultimately Utah. Spike strips placed by Utah State Police finally pierced the tires on Walker's 2007 BMW 750Li, but Walker kept driving for a while with flat tires.
Finally, Walker gave up on the car after being forced to stop, fleeing on foot with his female passenger instead. Police still caught up to him, charging him with the following offenses:
Two third-degree felony charges of possession of a controlled substance
Third-degree felony charge of failure to stop for police
Several additional misdemeanor charges: driving under the influence of alcohol, having an open container in a vehicle, possession of drug-related paraphernalia and unlawful transportation of alcohol
This isn't the "chase" NASCAR intended to have, hon.
While anyone who has had to deal with the legal system knows that time moves slowly, criminal cases usually move a bit faster than this. Walker's case is being handled in Utah, where he was arrested.
Per StGeorgeUtah.com, 5th District Judge Eric Ludlow postponed taking a plea from Walker for the thirteenth time this week. Walker did not appear in person and his defense attorney never received paperwork from the former NASCAR driver to enter a plea by mail.
Judge Ludlow has now given Walker and his defense attorney an ultimatum: enter a plea by mail by December 2, or he'll be forced to appear in person.
It will almost be two years since Walker's chase across the desert, so talk about dragging it out. Walker was at one point in time a rising star in NASCAR, having enjoyed success in Sprint Cars and participating in several Nationwide Series and Craftsman Truck Series races, but his run-in with NASCAR's drug policy put that on hold.
(H/T Autoweek)
Photo credit: Getty Images