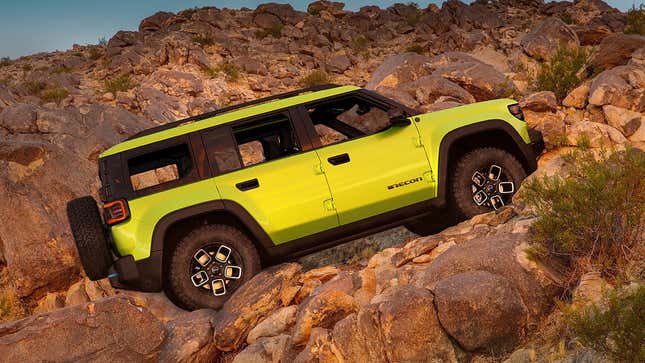 Good morning! It's Wednesday, May 31, 2023 and this is The Morning Shift, your daily roundup of the top automotive headlines from around the world, in one place. Here are the important stories you need to know.

2024 Nissan Z NISMO | Jalopnik Reviews
1st Gear: It's A Scout Thing
In yesterday's TMS, we talked about Volkswagen's effort to revive Scout as an electric SUV and truck brand based in the U.S. later this decade. VW seems to consider Scout's American identity as critical to its success, which likely explains the company's highest profile hire to date: former Stellantis interior design director, Chris Benjamin, who counts the Jeep Grand Wagoneer and upcoming Recon among his many credits. He'll be Scout's design chief going forward, and our friend Tim Stevens had occasion to chat with him in an interview published yesterday over at Motor1:
The design language will represent the brand, which is more about exploration and respect than conquering and dominating. A Scout, Benjamin says, will: "look like a serious machine, like it's there for business, but with an approachability."

So, no angry-eye headlight covers, presumably.

Benjamin also wants these vehicles to be less fundamentally compromised than the Wrangler or the Bronco: "We will create something that is both capable and is super-comfortable when you're going about your daily business."

They also won't be bland retro homages: "What I'm looking to do with the brand is to create something that will make people feel a familiarity without being a direct redo of the International Harvester Scout. I think that there's so much room between the 80s and now, cars have changed so much in that timeframe, that we can create something that's new and fresh and still have elements that will make people reminisce."
On the topic of interiors, Benjamin doesn't seem to be preaching Volkswagen's recent fondness for capacitive buttons and screens only:
"We will hold on to an element of tactility, making manual controls feel special, like something that you want to interact with. Not just a sort of sea of matte black buttons, but rather something that feels special," he said. "Like a high-precision machine."

Benjamin promised the "right mix" of physical controls and digital touchpoints. "Not a sea of buttons, for sure. Not overdone. Just a small amount of exactly the most critical things that are desired by customers to get to quickly," he said, mentioning things like a volume knob and HVAC controls.
Also, Scout has a no-leaky-roof policy, which is hard not to interpret as a dig at its primary rival:
"We're trying to avoid innovating for novelty sake but rather innovating for real usability," Benjamin said, then referenced some classic Scout design features of old: "The thing that was a big part of the Scouts in the past was being able to experience the environment around you, the open air," he said. "[We're] looking into what we can do there without finding some of the pitfalls that we've seen other companies fall into with leaky roofs, stuff like that."
The Recon looks good and Benjamin understands this market, so it would seem Scout's in good hands. It's just going to be tough waiting another three years to see the vision bear out.
2nd Gear: I-Pace Recalled
The I-Pace, Jaguar's weird egg-shaped EV that nobody every really talks about but has been on the market for five whole years now, has just received a recall here in the States for the issue every EV maker dreads: a risk of battery fire. Courtesy Reuters:
Jaguar Land Rover (JLR) said it was recalling nearly 6,400 I-PACE vehicles in the United States due to fire risks because the high-voltage electric vehicle battery may overheat.

JLR, which is owned by India's Tata Motors, on Wednesday said the battery energy control module software will be updated and battery modules will be replaced as necessary in certain 2019-2024 model year vehicles.

JLR said its engineering team has not determined whether the battery pack assembly is defective or a cause of reported thermal overload conditions, but out of an abundance of caution decided to recall the vehicles.

The automaker has reports of eight U.S. vehicle fires but no accidents or injuries, according to a filing with the National Highway Traffic Safety Administration.
It's nice that JLR is at least leaving open the possibility that the packs in some of these vehicles may need to be replaced, not merely updated with new logic. That's more than GM did when the Chevrolet Bolt's battery problems were first identified.
3rd Gear: Elsewhere In The JLR Universe
Land Rover as a brand has something cooking now, particularly with the Defender. But its competitors are ahead where EVs are concerned, and Land Rover's plan to address that is to reinvent the svelte Range Rover Velar, which had initially been positioned as a Porsche Macan competitor, into an electric SUV. From Autocar:
Details of its technical makeup and capabilities are closely guarded, but the EMA is likely to be a more overtly 'road-focused' proposition than the MLA structure that will underpin electric derivatives of the full-sized Range Rover and Discovery.

JLR has revealed the EMA will be a 'simple' structure engineered around its floor-mounted batteries, which will be equipped with 800V hardware for rapid charging – so the electric Velar could match the 350kW maximum top-up speed of its upcoming Porsche and Audi contemporaries.

JLR also said earlier that the EMA's bespoke electric motors will offer an efficiency of around 4-4.5 miles per kWh and be the "most torque dense" in class. This means the Velar and its similarly sized range-mates should ape the long-distance touring potential of their ICE forebears and be likely to improve on their low-speed off-road abilities.

The platform entered a late-stage engineering approval process nearly a year ago and test mules for the Velar EV are expected to hit public roads and test tracks in the coming months.
This all comes at a time when Land Rover is about to be fractured into three separate brands — Range Rover, Discovery and Defender — for unclear benefit. The Defender is strong, and it's that association that gives Land Rover life right now. Such a move strikes like breaking Wrangler out of Jeep and expecting anyone to still buy a Compass. But hey — brands gonna brand.
4th Gear: Free Trade Mercedes
Europe's biggest automakers are feeling threatened by China right now, and that's led some executives — like Stellantis' Carlos Tavares — to suggest that perhaps firms like his could benefit from favorable treatment from the bloc. Mercedes-Benz's Ola Källenius is wary of this, though, because his company has actually performed reasonably well in China as of late, and he doesn't want deteriorating trade relations between the two powers to get in the way of that. From a recent chat Källenius had with Bloomberg:
[Bloomberg:] So there's no concern on your side that imports of Chinese cars into Europe would create an uneven playing field?

[Källenius:] My concern is to do the job that we've done for more than 100 years: to invest in innovation and new technology, and to make sure our products are the most desirable in the market, wherever we are — in Europe, North America and China.

In the very intense competitive environment of the auto industry, I don't think that it will be primarily protectionism that will help us protect our competitive position. I think that will, on a worldwide basis, harm our competitive position. What will protect us is innovation, investing into new technologies and making sure that we delight and surprise the customer. That competitive factor is by far the most important.
It's hard to argue with that. Make better products, and maybe you won't need to mire your competitors in nationalistic red tape. Unless his peers start singing the same tune, though, it's difficult to imagine the increasingly panicked European auto sector not getting preferential treatment.
5th Gear: Airline Exec, Two Pilots Acquitted In Ghosn Escape
Three people involved in former Renault-Nissan CEO Carlos Ghosn's escape from Japan in 2019 had been sentenced to four years and two months in prison by a Turkish court in 2021. That case was retried, and all three have now been acquitted, per Reuters:
A Turkish court acquitted three people over former Nissan boss Carlos Ghosn's escape via Istanbul to Lebanon after fleeing Japan, a lawyer for one of the defendants said on Tuesday.

A jet company executive and two pilots, who were detained for several months, were convicted to four years and two months in jail in 2021 over the charge of migrant smuggling.

Mehmet Fatih Danaci, a lawyer for the jet operator executive, said an appeals court ordered the retrial of the case and returned the file to the lower court.

"We appealed the ruling. In the retrial, the court acquitted our client, along with two pilots who were initially convicted," Danaci told Reuters.
Throughout all this, the pilots have testified they had no idea Ghosn was aboard their aircraft from Osaka to Istanbul, while that airline exec said he learned only after the first plane landed and was threatened into helping the disgraced magnate stuffed into a musical case onto his next flight.
Reverse: Rebuilding Detroit In Moscow
On this day in 1929 — 94 years ago — Henry Ford struck a deal with the Soviet Union. Three years later, USSR-built Model As began rolling off assembly lines. From History.com:
Neutral: Brand Consolidation
Every company wants to spin one name out of another, in the vague hopes of potentially having multiple listed publicly-traded companies on the stock market one day. You never see it go the other way though. Stellantis has like 20 brands; what if it was just one big mono-brand? A Stellantis Wrangler side by side with a Stellantis Levante and Stellantis Pacifica. It kind of makes me a little sick, but it's funny. Someone should try it as a bit.