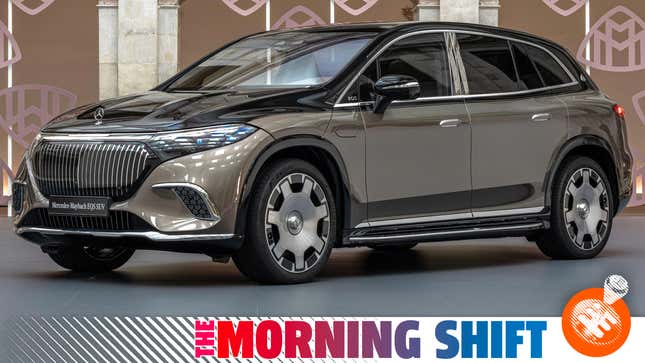 Limousines in America are more or less dead, Daimler has a new medium-duty electric truck brand, and Mercedes. All that and more in this edition of The Morning Shift for April 28, 2023.

1st Gear: Mercedes
Mercedes released its first-quarter earnings results on Friday. The top line news is that Mercedes is finding that sales in Europe still aren't optimal, but that it has reasons to be more optimistic in America and China, the two biggest car markets in the world. Mercedes also had better margins. From Reuters:
...on Friday it lifted guidance for the annual adjusted return on sales at its vans division to 11 percent-13 percent from 9-11 percent, and said it expected to hit the higher end of its 12 percent-14 percent forecast for returns in the cars division.

That came after it reported group earnings of 5.5 billion euros ($6.06 billion) for the first quarter, and adjusted return on sales for its cars division of 14.8 percent, above expectations but below last year's 16.4 percent margin.

The vans division saw an adjusted margin of 15.6 percent, up from last year's 12.6 percent, boosted by improved deliveries and pricing.

Mercedes boosted earnings in 2022 by hiking prices by more than the rise in its own costs, and planned to carry on doing this throughout 2023, Chief Financial Officer Harald Wilhelm said.
Raising prices more than costs certainly seems like an ingenious business strategy, though Bloomberg notes that in China, specifically, Mercedes thinks it has continuing strength.
"In China, the top luxury level is still very much an internal combustion engine world and we are the undisputed leader," Mercedes Chief Financial Officer Harald Wilhelm said in an interview with Bloomberg Television, adding "we should serve that demand but we definitely plan same the thing for electric vehicles."

After decades at the top in the world's biggest car market, Mercedes and German peers BMW AG and Volkswagen AG are falling behind local competitors as EV demand surges. Shenzhen-based BYD Co. became China's best-selling automaker in the first quarter, dethroning VW for the first time in decades.

Still, Mercedes retains the crown for combustion-engine vehicles costing between 1,000,000 yuan ($144,345) and 2,000,000 yuan with as much as 50% market share in that segment, Wilhelm told reporters during a first-quarter earnings call. Last year, the Stuttgart-based company sold more than half of its 22,600 ultra-luxury Maybach models, which start at around $200,000, to China's elite.

[...]

The S-Class also remains popular with opulent rear-seating arrangements geared toward chauffeur-driven owners. Chinese buyers have been less taken with the S-Class's electric sibling, the EQS. Mercedes last year drastically cut prices in China for the model after disappointing sales.
Mercedes is saying, then, that while its ultra-luxury customers in China prefer internal combustion, Mercedes will still transition pretty seamlessly into EVs there, which is hopeful at least. Mercedes is also laying the groundwork for that with cars like the Maybach EQS, which debuted earlier this month. This seems like a test, primarily, of the strength of Mercedes' brand abroad, where it's an easier sell than in Europe, where Mercedes are almost just regular cars.
2nd Gear: Rizon
Brace yourself for some excitement: Daimler Truck, which is one of the largest commercial vehicle makers in the world, said Thursday that it would be introducing a new brand in the U.S. for medium-duty trucks. The brand will be called Rizon and make electric trucks, competing in a space with Hino and Isuzu. From Reuters:
Rizon will offer Class 4 and 5 trucks with lithium iron phosphate battery technology and start production in the third quarter of 2023, Andreas Deuschle, the global head of Rizon, said on a call with reporters.

Distribution will start in the fourth quarter through an exclusive agreement with Velocity Vehicle Group, the company said.

Karl Deppen, head of Daimler Truck Asia, said purchase prices were falling for some vehicles that received different grants and interest in battery electric vehicles (BEVs) was rising based on their quietness and comfort compared with diesel trucks.

"There's a lot of drive towards locally emission-free vehicles and BEVs, and that's the perfect opportunity here," he added.
Rizons will be targeted for last-mile deliveries and utility work and such, with range varying from 110 miles to 160 miles, which is one of the ideal use-cases for a medium-duty electric truck. We should be seeing a lot more of these kinds of trucks, and soon.
3rd Gear: Daihatsu Did a Whoopsie
Toyota and Daihatsu, which Toyota owns, said Friday that around 88,000 cars were modified to help pass side-collision impact testing. The cars were mostly Yarises and Axias for markets in Malaysia, Thailand, Mexico, and the Middle East.
Toyota simply has no idea how this all happened but said it was investigating, according to Reuters.

[Toyota and Daihatsu] said the door trim on the affected vehicles had been modified with a "notch" to minimise the risk in testing that the door interior could break with a sharp edge and cause injury to an occupant when the side airbag deployed in an accident.

The modification for testing was not part of the production vehicle, the companies said.

Toyota Chairman Akio Toyoda said the companies were investigating how the side-panel of Yaris and other models had been changed for safety testing and apologised for what he called an "unacceptable" violation of consumer trust.

Toyota said it had not received any report of an accident or injury related to the rigged side-crash test.

It was not immediately clear who had rigged the doors for crash testing, how widespread the knowledge of the action had been within Daihatsu and whether senior managers had approved the step.

"We'll proceed with a detailed investigation from here on, but promise to decisively understand what happened at the site, investigate the true intentions and sincerely work to prevent a recurrence," Toyoda told reporters.
Toyota will get to the bottom of this, surely, it will definitely be at the top of everyone's minds on Monday morning.
4th Gear: Lithia Axed 1,000 Jobs: Report
Lithia is the biggest dealership chain in the U.S. according to sales volume, according to Automotive News, and had nearly 22,000 employees as of the end of this year. Now, Auto News says, Lithia got rid of some number of those employees, or possibly just didn't replace some of them, or possibly eliminated lots of open positions. This had to do with "right-sizing" the company, which is a corporate buzzword that is essentially meaningless.
Needless to say, there is not a lot of transparency here:
Lithia COO Chris Holzshu, on the company's first-quarter earnings call last week, said the group has been focused on "right-sizing" in certain pockets that had increased its selling, general and administrative expenses "in a declining [gross profit per unit] environment and sales environment that we had to adapt to.

"Since we last spoke coming off of Q4's call, we've eliminated about 1,000 positions in the field and have right-sized a lot of pay plans, kind of getting folks ready for this new environment that helps us leverage the gross and the net. And so, [in] March actually, we saw a lot of that come through the bottom line and we're anticipating additional strength coming into Q2."

Lithia did not comment directly on what type of positions were eliminated, where they were located, when the cuts took place or if they were open positions. The group did divest one dealership in the first quarter.

"At Lithia & Driveway we are a data driven organization and regularly assess staffing to better serve our customers and support our business needs," the company said in a statement to Automotive News. "To maintain our momentum and growth strategy, we continue to set a culture of high performance, while nimbly responding to the environment with driving efficiencies and managing performance."
5th Gear: Limos, Which You Don't See Much Anymore
It's been a few years since I saw a stretch limo in New York City, something I had chalked up to the pandemic I guess, but also further retrenchment from the 1980s and 1990s, when riding in a limo denoted that you were rich, or at least important, or at least going to prom. These days the rich and important are more likely to be driven in an Escalade, because while that is still conspicuous it isn't as obnoxious.
The New York Times looked at the matter on Friday, and identified many of these causes in the decline of the limo, but also two other big ones: The Great Recession and the rise of Uber and Lyft.
Then the housing market collapsed in 2008, setting in motion the longest and sharpest economic downturn since the Great Depression — and the beginning of the end of the stretch limo.

The downturn prompted companies to cut spending and shed workers. Demand for stretch limo rides cratered, as unemployment and gas prices soared.

"The market imploded," [Robert Alexander, president of the National Limousine Association] said.

The country was still in the throes of the recession when Uber was founded in 2009. Its main competitor, Lyft, arrived in 2012, and together they shook up the taxi industry and also made chauffeured black cars more accessible.

"When they first came on the scene, people — in particular, in our industry — really bristled," Mr. Alexander said of the ride-hailing services.

As Uber and Lyft grew, two deadly crashes in New York State highlighted the dangers of stretch limos. One killed four women on Long Island in 2015 and another in 2018 killed 20 people in Schoharie, about 40 miles west of Albany. State lawmakers responded by requiring seatbelts for all passengers and commercial driver's licenses for chauffeurs. The state's transportation commissioner was authorized to impound any stretch limo that failed an inspection.
I would also argue that limos were of an era when having a screen inside your car — usually a blurry CRT television — was an almost unimaginable luxury, and so was having a phone. Now all of us have both of those things in our pockets, all the time. The booze, I guess, should still be a draw for limos, but the kids these days don't really get hammered like they used to.
Reverse: Lambo
After World War II, Lamborghini founded a business making tractors from reconfigured surplus military machines, near Bologna, Italy. He later expanded into other ventures, including manufacturing air-conditioning and heating systems, and grew rich. Lamborghini's success enabled him to purchase a variety of luxury sports cars, including a Ferrari, considered one of the top cars of the time. After experiencing mechanical difficulties with his Ferrari, Lamborghini decided to start his own rival sports car company, even hiring a former top Ferrari engineer. Automobili Lamborghini was officially established in 1963 in Sant'Agata Bolognese, Italy, and the same year debuted its first car, the Lamborghini 350 GTV, a two-seater coupe with a V12 engine.

The company's logo featured a bull, a reference to Ferruccio Lamborghini's zodiac sign, Taurus the bull. Various Lamborghini models had names related to bulls or bullfighting, including the Miura (named for Don Eduardo Miura, a breeder of fighting bulls), a mid-engine sports car that was released in mid-1960s and gained Lamborghini an international following among car enthusiasts and a reputation for prestige and cutting-edge design.
Did anyone see that Lambo movie that came out last year that looked, honestly, pretty bad? That might have been one that only a few reviewers watched, out of professional obligation.
Neutral: The Wash
My car currently has some bird shit on it, along with detritus from local trees, which means I'll be taking it to one of the wand car wash places this weekend on Queens Boulevard, where a lot of taxi drivers congregate before their shifts. Good enough for them is good enough for me.