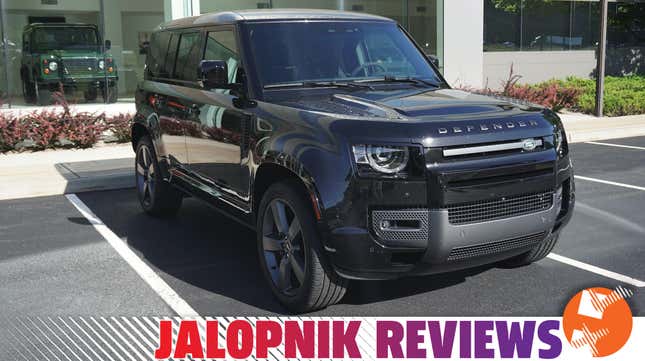 Driving a Land Rover Defender 110 V8 makes you the main character. People notice you. They give you thumbs-ups and reassuring nods as you leave them behind in a wake of V8 burble. And you feel like you deserve it. That's what driving a Defender does.

My First Car: Luke Evans and his Loaned Land Rover
Sometimes a vehicle is more than what appears on a spec sheet. Sometimes what's more important is the way a car makes you feel. So let me tell you: The Defender 110 V8 made me feel like a million bucks.

Full Disclosure: Land Rover gave me the keys to a fueled-up Defender 110 V8s and let me have a go in it for a week in total.

The Defender V8 on the Outside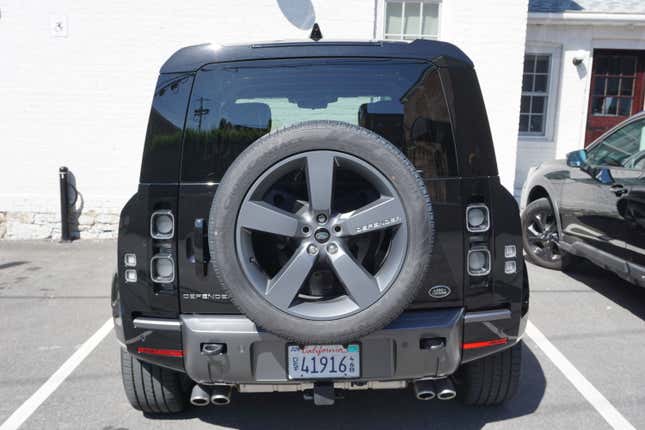 When the new Defender debuted a few years ago, most people – including me – were sort of split on the styling. It originally seemed far too bubbly and smooth to really be a Defender. Well, like most opinions I had when I was 22, I was wrong. In person, the Defender looks great, and that's true no matter if you choose the two-door Defender 90, four-door Defender 110 or extra-long Defender 130.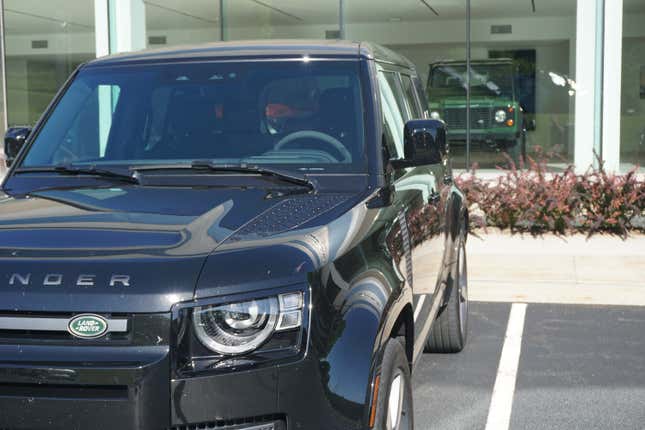 I'm not usually a fan of all-black cars, but there's something about the Defender V8 finished this way that gives it an imposing look. It's a car that would be driven by the bad guy in a movie. It's rugged yet sophisticated and a little imposing. It'll grab your attention, but not in a garish sort of way.
If you drive a Defender V8, only a few select people will know you spent the money — $116,870 (including $1,350 for destination) for the example the car tested here. What most people will see is someone who is just the right amount of rugged to keep life interesting, but not rugged enough that they'll insist on camping in a tree.
The Defender V8 on the Inside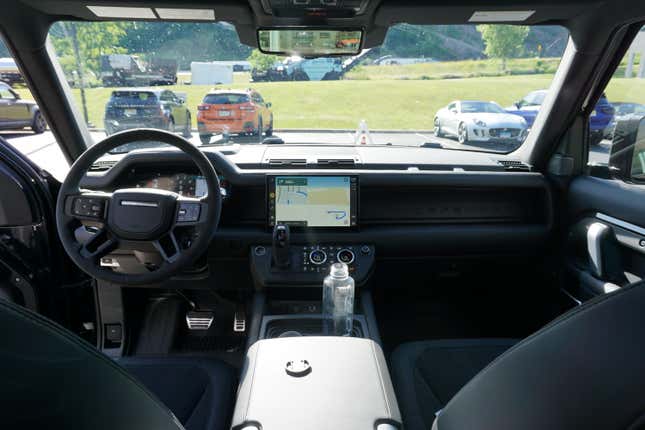 Like the Defender's exterior, the interior perfectly blends those rugged and luxurious elements. The Defender's cabin is far more practical and hard-wearing than something like a Mercedes-Benz G-Class, but it is a huge notch up in quality compared to American offerings like the Jeep Wrangler or Ford Bronco. The supremely comfortable heated and cooled front seats are trimmed in premium-feeling leader and suede, while the floor mats below are made of easy-to-clean rubber. There are plenty of meaty, rubberized oh-shit handles throughout the interior that make the idea of off-roading as a passenger a far less bumpy affair. The exposed screws are also a good reminder that your Defender is meant to do things, not just look pretty.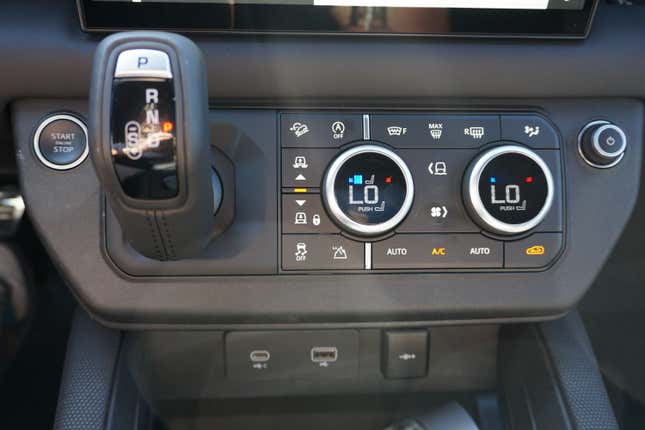 The first time you step inside the Defender, what you'll immediately notice is the sheer amount of space. Because of the way the front seat area is laid out, there are plenty of nooks and crannies to hold everything you own. Hell, there's even a cubby behind the center display to hide (read: forget) your belongings. This all lends to a very light and airy feeling cabin, despite the fact that every surface is black. The back seats also provide more than enough space for two large adults and a smaller friend to ride in comfort. There aren't a ton of amenities, but rear passengers do get to control their own climate. If you've got even more friends or family, Land Rover also offers the longer Defender 130. It'll give you a third row of seats and, in my opinion, an even cooler look.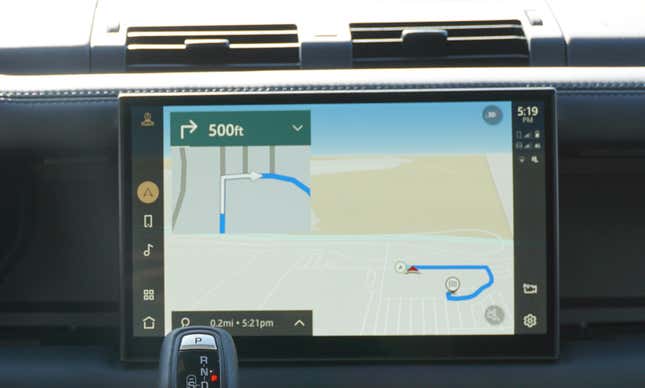 The Defender comes standard with Land Rover's latest 11.4-inch infotainment display. The Pivi Pro system within might not be the quickest software in the world, but it'll respond to inputs if you're wearing gloves, which is neat. There's also an all-digital gauge cluster that is about as reconfigurable as anything else in the automotive industry. Full map? No problem. Separate tach and speedo with an inordinate amount of information in the middle? Done. A center tach with a digital speed readout flanked by two different information panels? Absolutely. I love it.
What Makes It Tick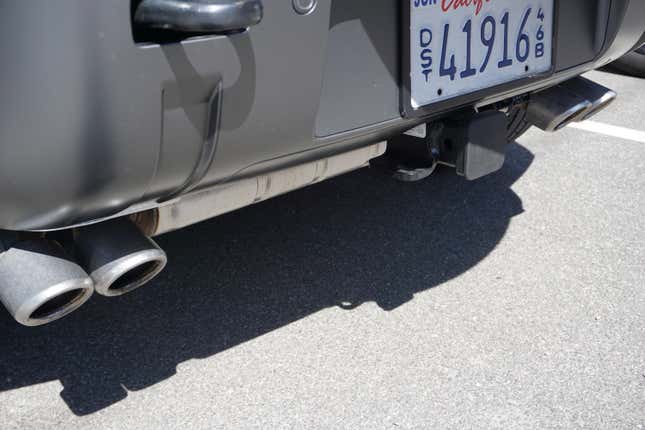 There are few things on earth that I like more than a big 'ol V8, and I'm happy to report that the supercharged 5.0-liter engine under the Defender's hood is one of the best in the industry. The scream of the supercharger accompanied by a baritone V8 rumble is something I wish could be replicated in every car.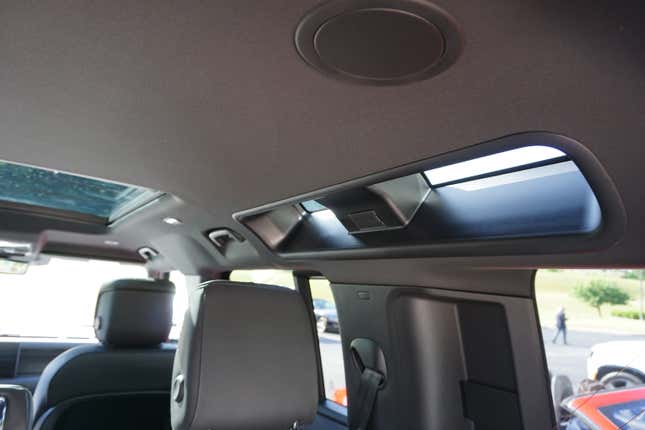 This raucous engine pushes out 518 horsepower and 461 lb-ft of torque through an eight-speed ZF-sourced automatic transmission, but don't for a moment think it isn't civilized. When you're driving around town, the V8 produces a low burble that sounds like a cigarette boat idling in a marina. Even on the highway, the engine's demeanor is calm and collected (while returning horrible fuel economy, not that you care), but the second you step on the accelerator, you're thrust back into your seat with V8 thunder puncturing your ear drums.
By the way, that seat is one of the best around. Forget the comfort, climate control and multi-way adjustability – the real headline when it comes to the Defender's driver's seat is the commanding position. You sit high above the entire world when you're behind the V8 model's suede-wrapped steering wheel. This is the first vehicle I've driven where feeling like you're sitting on the car rather than in it is a good thing.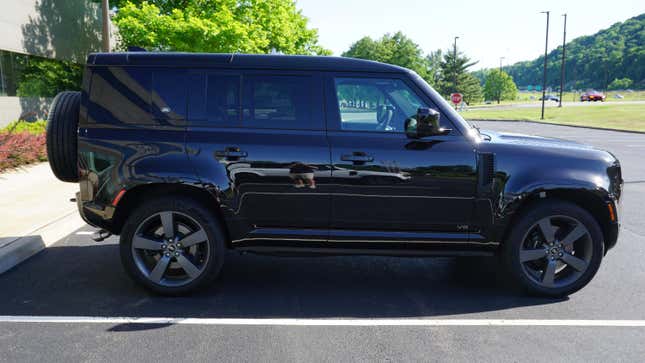 Defenders are highly customizable, so you can really do whatever you want when you configure one. That being said, the V8 gives you a few things that set it apart from other Defenders. You get massive 22-inch wheels at all four corners running summer tires, four exhaust tips, different spring and damper rates, upgraded roll bars and 14.9-inch front brakes gripped by Xenon Blue calipers, among a number of other changes.

My tester came in Carpathian Edition spec which gives you a special grey paint with black contrast accents. You also get different leather and a lot of suede that'll make you feel special.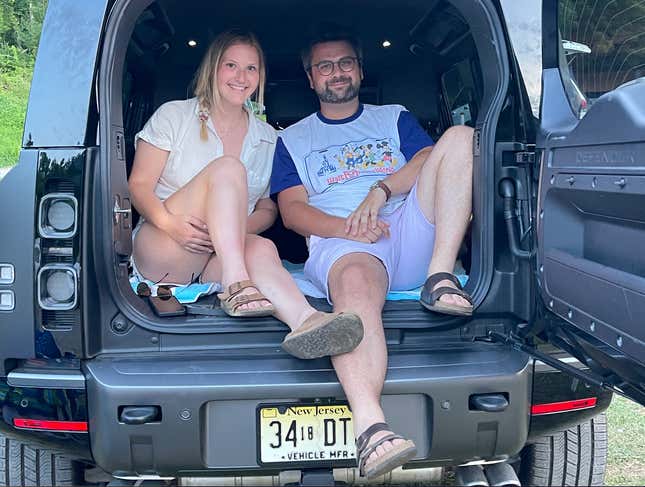 While sitting in the front seat is preferred, if you ever catch yourself at a drive-in movie theater with the Defender V8, the trunk can be made just as comfortable. In fact, because of the wide, tall cargo area, I'd say it's nearly the ideal vehicle for drive-ins (other than a pickup truck). All you have to do is switch the Defender to accessory mode, swing open the side-hinged rear door, and aim the rear-mounted climate control vents right out. It makes for quite a night with family and friends. It also helps that the Defender's stereo is great, too.
A Fond Farewell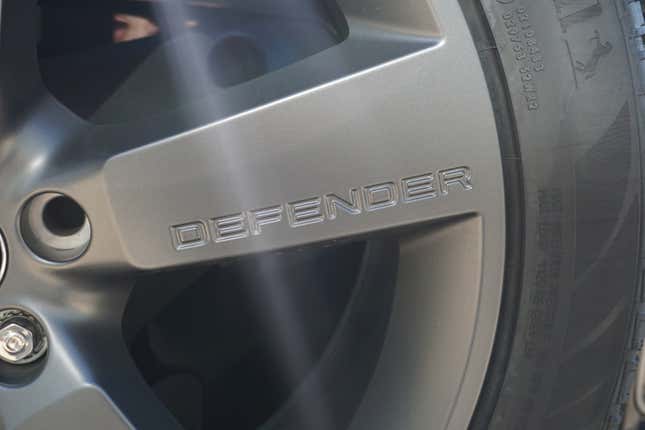 The Land Rover Defender V8's best attribute is how good it makes you feel, and so much of that comes down to the supercharged engine. Does an SUV like this need more than 500 horsepower? Of course not, and Land Rover has perfectly lovely Defenders with four- and six-cylinder engines in its lineup.

But none of those make me smile like the Defender V8, and that's something to be celebrated. One day, SUVs like this will not be around anymore. We should enjoy them while we still can.
2023 Land Rover Defender 110 Carpathian Edition AWD Specs
Price starting at
$111,296
Engine type
Intercooled Supercharger Premium Unleaded V-8
Transmission/Drive
Automatic w/OD