When Ford parted ways with CEO Mark Fields earlier this year, part of the reason had to do with how he positioned the automaker for the future—particularly in autonomous cars. Fields' replacement, Jim Hackett, is spending his first 100 days trying to assess his shop and get a grasp on where he wants to take it. While Ford may be behind competitors in the race to develop robotcars, Hackett showed a willingness to be realistic about the fledgling technology.
Ahead of a Ford symposium in San Francisco this week, Hackett spoke with the San Francisco Chronicle about autonomous cars. His view toward the adoption of the technology jibes with what carmakers have quietly said in the past, but seeing Hackett publicly embrace the idea that there should be tempered expectations about self-driving cars is a breath of fresh air.
Here's one response he gave to a question about whether there'll still be a place for human-driven cars down the line:
[Chronicle]: So do you think we'll shift entirely to autonomous vehicles, or will there still be a place for the car that you buy and drive yourself?

[Hackett]: It's the latter. We don't know that autonomous vehicle intelligence in the future will all be delegated to a service that no one owns but everyone uses. It could play a role in vehicles that people own, vehicles that aren't supposed to crash. You're buying the capability because of the protection it gives you. It's also possible it could be applied in these big, disruptive ways that of course we're not blind to, but my bet is we don't know. So again, that's a good position for Ford to be in, because the company can actually advantage itself both ways. Compared to — I don't want to name anyone, but a tech company that's not in the vehicle business — they hope it will only go one way, right? Today, 60-70 days into my job, I just want to make sure the possibility isn't closed.
G/O Media may get a commission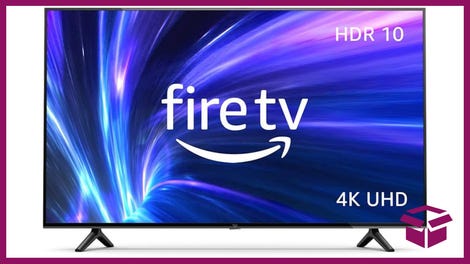 42% Off
Amazon Fire TV 50" 4K Smart TV
There was this bit, too, about people handling the wheel:
Q: Ford has invested in self-driving cars, with Argo AI. You've invested in ride services, with Chariot. Why can't we just keep driving our own cars?

A: They're actually together, for me. Vehicles are getting smarter, in the traditional business. And with the promise of the future business — autonomy — the vehicles are going to get much smarter. That guarantees, in a way, that Ford's vehicle history is an advantage. Because the smarter the vehicles are in the future — and we can build them — the more they'll have a role. I think dumb things are going to have a hard time in that out-there future. Things that have no intelligence, it's going to be harder to understand why you need them.
Ford has said it plans to roll out a highly-automated car by 2021, likely to be used in a ride-hailing setting. This seems like an achievable goal. Carve out a section of a downtown core, and have a taxi-like service operate in a capacity that can show people how the technology works. You could probably win over some skeptics that way, while continuously trying to perfect the technology.
Hackett has a clear-eyed approach, not a shoot-from-the-hip view that could lead people to think fully-autonomous cars will be offered for sale in the next few of years. It's cautious, but in an environment where pushing out the tech and developing it as fast as possible seems to be the official line of everyone in the industry right now, it's nice to see Hackett take this line. The rollout of self-driving cars across the U.S. will take time; it's good Hackett is taking this approach.