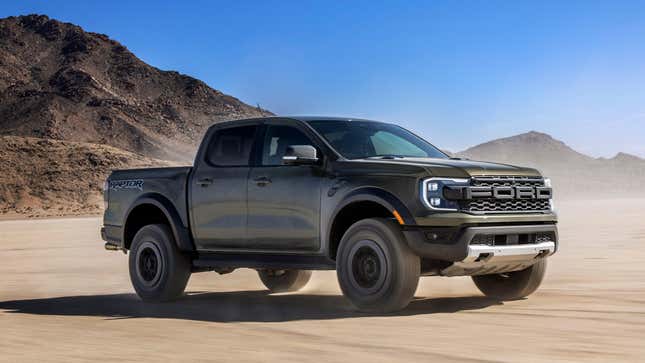 Even if the Ford Ranger Raptor comes up short in how good it can blast through a trail, its twin-turbo V6 will still make best-in-class power figures. Ford knew that the V6 was the one they always wanted for the Ranger Raptor, even if some of us still pine for a V8.
Tesla's Model Y is The Most American-Made Car
We all love our V8s. From sweet exhaust sounds to reliability, they can often be the go-to for a performance vehicle. But, in recent years, automakers like Ford, in trying to balance environmental regulations and concerns while still doing some fun stuff, have been downsizing. So it is with the Ranger Raptor and its V6, what Ford calls a performance engine.

In fact, a variant of the 2.7 liter Ecoboost V6, the 3.0 liter twin-turbo V6 has been in use for years, making its debut in 2017 in both the Lincoln Continental and the often-forgotten Lincoln MKZ.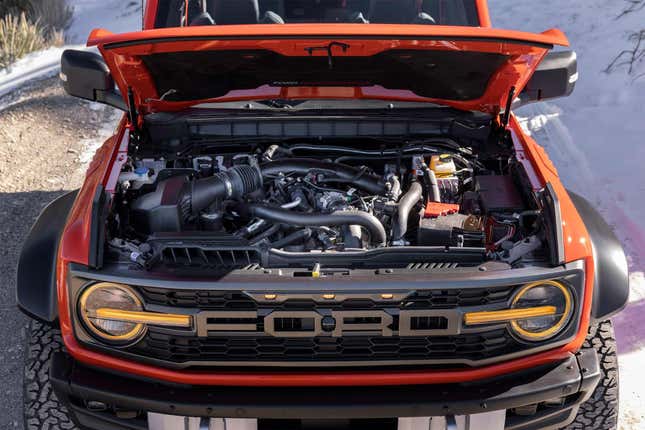 Today, the engine sees use in vehicles like the Ford Explorer ST, Lincoln Aviator (where it makes nearly 500 hp and 630 lb ft of torque) and most importantly the Bronco and Ranger Raptor models. In the Ranger Raptor, the engine makes 405 hp, 13 hp less than the Bronco Raptor. In both models, it's paired with a 10-speed automatic.
Compared to offerings from everyone else, it outpowers them all. It's got 95 hp on the Chevy Colorado ZR2/GMC Canyon AT4X and Nissan Frontier Pro4X and a massive 127 hp advantage over the ancient 3.5 liter V6 that powers the Toyota Tacoma TRD models. But why the V6? Ford says that was always going to be the engine for the Ranger Raptor because it "provides a broad torque range." With 430 lb-ft of torque on tap that should prove to be very true.

Ford wouldn't say if any other engine was considered, like something bigger, say the Coyote V8 from the Mustang that would have turned the Ranger Raptor into a different animal. Ford also wouldn't say if we could potentially see a hotter Ranger Raptor R down the line.

Still, maybe these days we're moving beyond all that, with the twin-turbo V6 more than enough for off-road duty in this midsize truck. From the looks of it, it may have a slightly better power-to-weight ratio than the F-150 Raptor, too. Whether that's worth its near $57,000 starting price is up to you.