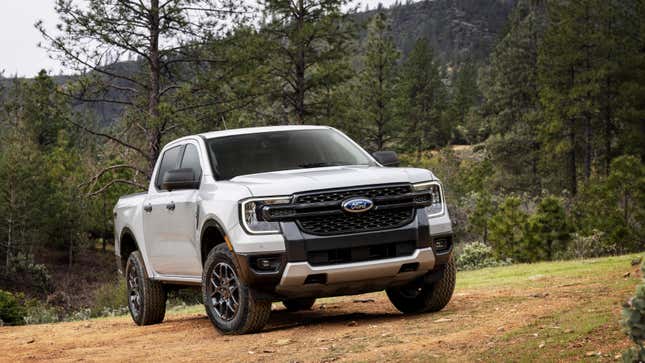 Ford just released the heavily updated 2024 Ranger. And while the pickup gained a trio of impressively powered engines, noticeably missing was any kind of hybrid or plug-in hybrid option. That may be changing as soon as next year, as Australian outlet Drive reports that the Ranger is apparently gaining a plug-in hybrid variant for the Australian market that will eventually be sold here in the U.S.
This NYC Garage Takes Vanlife To The Next Level | Jalopnik Visits
While Drive mentions that Ford Australia hasn't exactly confirmed this, they've allegedly seen plans showing that the PHEV is coming next year as part of some 2024 updates. If those updates sound strange to you considering that the Ranger was just updated, remember that the Ranger we're getting as has been on sale in the rest of the world since 2021.

Ford has also sort of confirmed and hinted that the Ranger (and Ranger-based Everest SUV not sold in the U.S.) was designed from the ground up to take on electric and hybrid powertrain options. As for what exactly will power this PHEV Ranger, Drive says that it'll be powered by the 2.3 liter Ecoboost I4 —that sees duty in everything from Lincoln crossovers to the Ford Explorer— paired with either single or dual electric motors.

If Ford plays this right, it could be a hit. Aside from Ram's mild hybrids, Ford's own Maverick Hybrid (if you can find one), and Toyota's i-Force Max engines in the Tundra and new Tacoma, there aren't many other hybrid pickups, let alone plug-in hybrid models. But Ford is struggling to keep up with buyers who want the Maverick as it is, and PHEVs tend to be pricier than their gas and hybrid counterparts. Hopefully, Ford doesn't end up with another popular but pricey truck no one can get their hands on.

I emailed Ford for comment and will update this story if I hear back.
Update: Ford got back to us and declined to comment or speculate on future products.