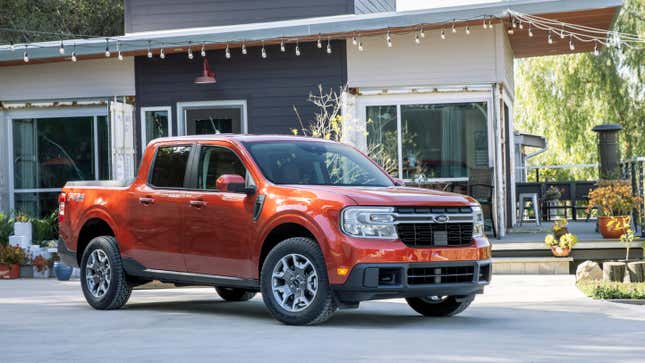 From the Bronco to the F-150 Lighting, Ford vehicles are in high demand. Also the Maverick, such that, surprisingly, as Ford Authority reports, the company says it probably won't be able to make enough of them.
This NYC Garage Takes Vanlife To The Next Level | Jalopnik Visits
The Maverick has been a big seller for Ford. Despite markups bringing the price close to or more than the bigger F-150, customers can't get enough of the small pickup. Ford sold just under 22,000 in the first three months of 2023. Thousands of other customers across the country have orders and are waiting for their Mavericks. And Ford's Hermosillo Assembly Plant in Hermosillo, Mexico — where the Maverick is built — can't keep up. Ford plans to add a third shift to the plant in July along with hiring 6,100 new plant workers (1,100 direct and 5,000 indirect) to help. But CEO Jim Farley says even that won't be enough to satisfy demand.

Speaking during Ford's shareholder call, Farley laid out the reality of the situation, admitting that the company underestimated the demand for the Maverick.

"Yeah, we're going to have a capacity increase in July at the plant. That'll help. Unfortunately, we completely under-called the demand for Mavericks. So, I'm not confident even with the capacity increase that we're going to have a lot of Mavericks available to everyone. We still have – look, we have a ten day supply of the vehicle. You can find Mavericks. The capacity increase will help, but clearly, the vehicles hit a really positive nerve, especially with the U.S. consumer. And we're doing everything we can to increase, especially our supply chain, to increase the production."
Whatever needs to be done Ford needs to figure it out quickly. Scouring the owner forums, some buyers have been waiting over 10 months for their trucks. And while it seems that some may be willing to patiently wait, others may get fed up and go buy something else. And with the 2023 model year Maverick ending production in October, the order banks for the '24 models will open soon, making things worse.