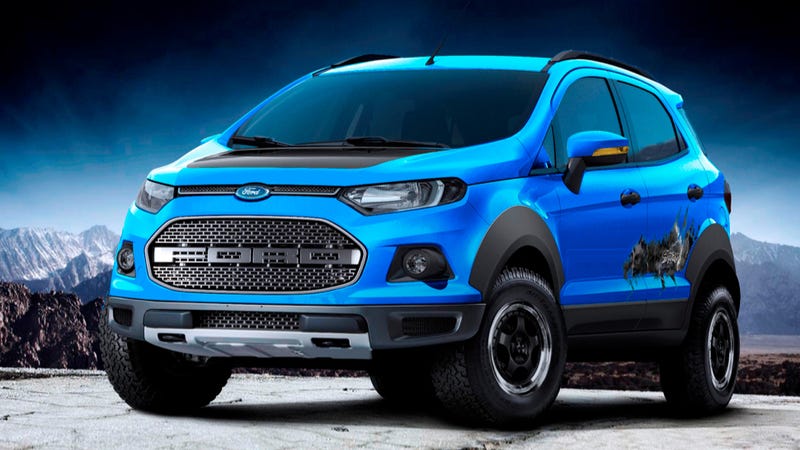 Truck Yeah
The trucks are good!
The Ford EcoSport is basically the Ford Fiesta of the company's crossover lineup in Brazil, Thailand, and India where it's built. So to give it a little more puxa and I guess "because hilarious," they slapped a Ford Raptor face on one and dubbed it EcoSport Storm.
This compact crossover, trotted out for the Sao Paulo Motor Show, has the semi-iconic "FORD"-stamp grille and front bumper from the Raptor, fender flares, 215/75 R15 off-road tires, and some funky rear-quarter graphics slapped over a lovely "Blue Storm" paint job.
After (probably) trying really hard to complete the conversion and shoehorn the 6.2 V8 in, Ford gave up and stuck whichever three or four-cylinder fuel-sipper the EcoSport ships with normally.
It's fun to laugh at this little thing, but without the graphics it might actually look pretty reasonable... Renegade Trailhawk rival perhaps?
No, obviously, there are no plans to bring anything like this to production. The EcoSport is very much a real vehicle that is for sale though, just not in America. It starts at around $22,000 in Brazil, and basically looks like a miniature Escape without the EcoSport Storm's warpaint:
Images via Ford