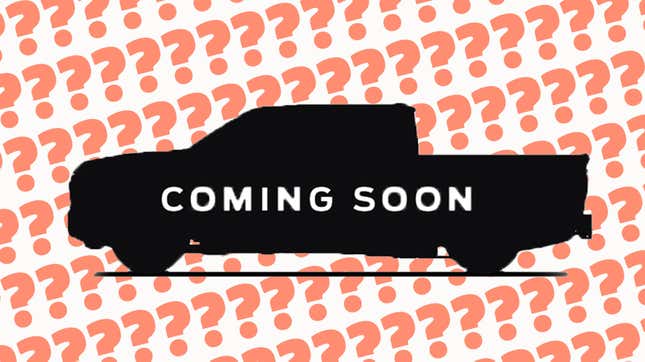 If you're thinking about fast Fords, what springs to mind? Is it a top-tier Mustang? What about something like the Focus ST? How about a modified F-150 Lightning to show off a new sponsorship deal for Ford? Well, that's what it sounds like we might soon get to see according to details shared by Ford as it announced a new partnership with Formula 1 champions Red Bull racing.

Last Friday, the Blue Oval was in New York to confirm rumors that it would be partnering with Red Bull in F1 from 2026. The deal will see the current world champions become Red Bull Ford as it begins running Ford-branded engines.
At the launch event, we got to see drivers Max Verstappen and Sergio Perez hoon a couple of high-performance Ford EVs on track. Verstappen got behind the wheel of a race-ready Mustang Mach-E, while Perez piloted a Ford EV Supervan – and looked like he was having a ton of fun in the process.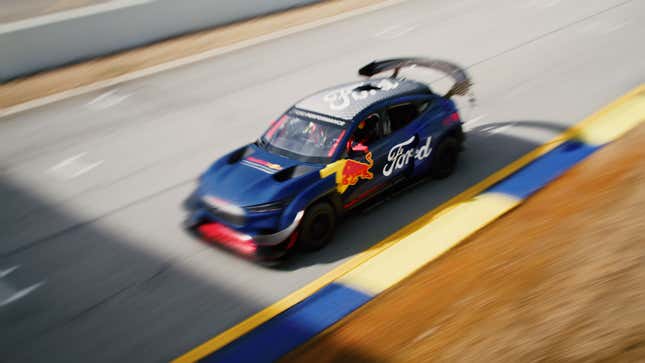 Now, Ford has teased another performance-minded EV that could be in the works. First reported by Motor Authority, the rumors all stem from a graphic shared by Ford that outlines its performance models.
On the graphic (below), a silhouette of the Red Bull F1 car could be seen, as well as that of the new Ford Mustang race cars and the Ranger Raptor pickup truck. But, a fourth silhouette has got people thinking about what Ford Performance could be cooking up next. According to Motor Authority:
"The next EV experiment could be a high-output F-150 Lightning. Ford has built a Mustang Mach-E with seven electric motors producing a combined 1,400 horsepower, an electric Ford Supervan with 1,972 hp, and even a 1978 F100 with an Eliminator electric crate engine.

"Ford spokesperson Emma Berg said the company continues to evaluate how EVs fit into its motorsports strategy."
In order to compete with its performance Mach-E and Supervan, Ford will have its work cut out with the F-150 Lightning. As it stands, the base truck will hit 60 mph in just under four seconds, while the all-electric Supervan can do that in less than two thanks to its incredible power.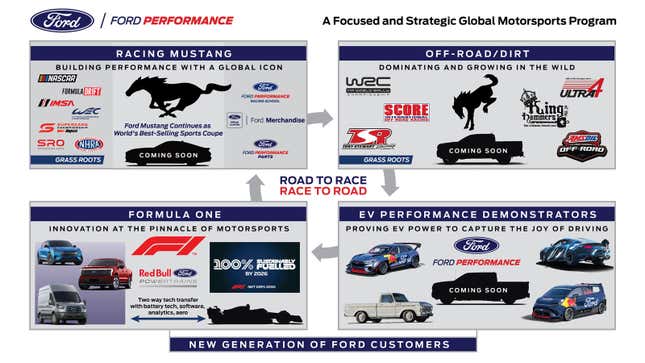 To put the required gains into context, the standard F-150 Lightning makes 775 lb-ft of torque and 563 hp, which is about a third that of the other demonstrator cars. So Ford is going to need to give the EV truck a little more grunt.
What's more, the F-150 Lightning also weighs about 2,000 pounds more than the all-electric Mustang, so will be in need of even more oomph if it wants to have any hope of putting the same kind of smile on an F1 driver's face.
Could all this mean that a lightened, 2,000 HP F-150 is on the horizon? Who knows. Well, apart from Ford. For the rest of us, we'll have to just wait patiently until the Blue Oval decide its time to reveal its new beast.