Good morning! Welcome to The Morning Shift, your roundup of the auto news you crave, all in one place every weekday morning. Here are the important stories you need to know.
1st Gear: Ford Will Most Likely Line Its Pockets With That Easy Compact SUV Money
American car buyers are losing their damn minds over SUVs right now, which is why even sports car manufacturers continue entering the segment, and why SUV manufacturers are actually building the things in wheelbase increments of eight-inches.
But Ford has been missing out on some of that cheap and easy SUV money thanks to its absence in the subcompact crossover segment, which includes short-and-stumpy vehicles like the Chevrolet Trax, Toyota CH-R, Honda HR-V and Jeep Renegade. That oversight, Bloomberg reports, is one of many reasons why Ford's new CEO Jim Hackett is in the process of overhauling The Blue Oval. The news site writes:
Ford has been missing out on the fatter margins that rivals including General Motors Co., Fiat Chrysler Automobiles and Honda Motor Co. are earning from small crossovers. Subcompact crossovers sold for an average of almost $25,000 last year, about $7,500 more than subcompact cars and $4,150 more than compact cars, according to Kelley Blue Book.

G/O Media may get a commission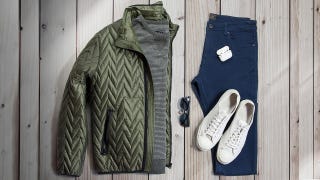 60% off
Jachs NY Fall Sale 60% Off
Ford's tardiness in joining the subcompact crossover segment, Bloomberg says, is an example of why Jim Hackett was brought in as the new CEO in the first place:
Hackett took over as CEO of Ford in May partly because the automaker had been flat-footed bringing small crossovers, midsize pickups and electric vehicles to market. Late arrivals to these segments cost the company customers as industrywide demand shrank last year for the first time since the recession.


"Just by having an offering, we're already going to grow our business by maintaining our own customer base," Michael O'Brien, group marketing manager of Ford SUVs, said in an interview
The article mentions that analysts expect Ford to see a decline in light-vehicle sales of about 1.5 percent at the beginning of this year, also pointing out that Moody's recently changed Ford's credit rating outlook from "stable" to "negative." 
Part of this, the story implies, has to do with Ford's inability to adjust to the rapidly increasing demand for SUVs and crossovers, whose sales are expected to jump 5 percent this month alone. Just listen to what the president of a Ford dealership in Texas told Bloomberg:
"This is something we really have needed," Charlie Gilchrist, the president of SouthWest Ford, a dealership near Fort Worth, Texas, said of the EcoSport. "We'll see customers that were looking at the Chevrolet Trax that we've never seen before. We didn't have anything for them."

As part of his plan to "reverse Ford's fortunes," Hackett promised 23 new models for 2018 including the EcoSport, and $7 billion of additional development spending on SUVs. Hackett seems to have Ford moving into the SUV space as quickly as possible. Which is good. There's no reason not to keep missing out on that easy money.
2nd Gear: Daimler Finds Out That New Technology Is Expensive
Daimler said on Thursday that its profits will be limited this year by high costs of electrification and autonomous vehicle technology, Reuters reports. This comes after the company reported lower margins on Mercedes-brand vehicles, and also admitted to having missed its earnings forecasts. The news site reports:
An expected rise in unit sales and revenue in 2018 will be countered by spending on new cars and technologies, the German automaker said, forecasting earnings before interest and tax (EBIT) would come in at a similar level to 2017.

Daimler mentioned on Thursday that it was dealing with currency concerns due to the rising value of the Euro, resulting in a "currency headwinds of up to $1.2 billion" this year alone. In addition, the company mentioned extra spending on raw materials and $1.2 billion worth of investments to "secure the future."
Arndt Ellinghorst, an analyst from investment banking advisor firm Evercore ISI, breaks that down, with the article saying:
Ellinghorst calculated this could amount to an additional 300-400 million euros in extra restructuring costs and a rise of up to 700 million euros in research and development spending.

Such is the price of trying to stay out in front of what some call an electric and autonomous vehicle "revolution." But the good news is that Mercedes has a new truck, so maybe that will help bring Mercedes the cash it needs to feed its R&D department.
3rd Gear: FCA's Scandal With The UAW Remains A Shitshow
First we heard that a number of United Auto Workers officials had allegedly been spending millions of dollars from the budget of one of Fiat Chrysler's training centers in Michigan on extravagant personal items.
Then we learned that, according to a federal investigation on the matter, executives had purportedly been paying off high-ranking union members in order to aid Fiat Chrysler's position at the collective-bargaining table. Then earlier this week, we learned about a proposed class action lawsuit by union members hoping to hold Fiat Chrysler and the UAW accountable for the scandal.
This past summer, Fiat Chrysler's labor chief was indicted for his involvement in the bribery scandal, and earlier this week The Detroit Free Press wrote that its sources said six more indictments were imminent.
And while we don't know who those six are, Automotive News wrote last night that Norwood Jewell—the former Vice President of the UAW—had been implicated in a recently-released plea deal between the former head of FCA's labor relations and the feds. The story describes:
Iacobelli, according to the plea deal, admits that he and other FCA executives and employees transferred hundreds of thousands of dollars "in prohibited payments" to tax-exempt organizations controlled by UAW officials, including Jewell's Making Our Children Smile Foundation.

The money was allegedly siphoned through the UAW-Chrysler National Training Center, which is funded by the automaker and jointly operated with the union.

Jewell, whom Automotive News mentions "abruptly" retired in late 2017, has not been charged of anything at this time, so we'll have to see where this one goes.
4th Gear: Speaking Of Auto Union Issues
Fiat Chrysler isn't the only company dealing with woes related to its union workforce, as German industry workers have been holding a series of 24-hour strikes in Frankfurt over work hours and wages, Reuters reports.
At the helm of the strikes is German union IG Metall, which called upon its members to participate in "full-day walkouts" through Friday as a warning of more serious "extended industrial action," which would have dire effects on a number of companies in the auto and truck industry including VW, MAN and ZF, with Reuters writing:
Across Germany, around 260 companies are expected to be hit by walkouts in support of IG Metall's demands from Wednesday to Friday. At automotive supplier Robert Bosch [ROBG.UL] in Stuttgart workers were due to go on strike at 2100 GMT on Wednesday, to be followed by Mercedes-Benz maker Daimler (DAIGn.DE) and sportscar firm Porsche (VOWG_p.DE) on Friday.

The union wants its 3.9 million workers to be the recipients of an 8 percent pay raise over a 27-month span—something that it thinks is reasonable considering Germany's recent rapid economic growth. In addition, the union wants members to be able to spend two years working only 28 hours a week instead of 35 in order to take care of children or other relatives in need. The article mentions one woman who switched to part-time work to take care of children, only to be denied the opportunity to later return to her full-time job.
According to Reuters, some companies offered a 6.8 percent pay increase, but did not approve of the demand for shorter hours unless they could also raise the work hours as needed. The story mentions this quote from IG Metall Union head Joerg Hofmann, who told German newspaper Handelsblatt:
This has become necessary because the employers are moving sideways and have thrown into question compromises that had already been agreed.
If 200 workers per company (50,000 in total) stop working for one day each, the strikes are slated to end up costing corporations $77 million a day in lost revenue, according to the DIW economic institute. That's a major blow.
5th Gear: Toyota Recalls A Crap-Ton Of Cars For Bad Airbags

We've already covered the Takata airbag recall that resulted from explosive Ammonium Nitrate propellant (and we'll continue to do so until you folks get your cars fixed), but now there's a new airbag recall from Toyota, and it's less about the propellant and more about electrical shorts, with The Detroit News describing the issue that plagues 645,000 vehicles worldwide, saying:
The recall covers certain Toyota Prius and Lexus RX and NX SUVs. Also covered are some Toyota Alphard, Vellfire, Sienta, Noah, Voxy, Esquire, Probox, Succeed, Corolla, Highlander, Levin and Hilux models. All were produced from May of 2015 to March of 2016.

The automaker says an open electrical circuit could occur over time. That would set off an air bag warning light and could stop the side and front air bags from deploying.
According to the news site, dealers will replace sensors as necessary free of charge, and Toyota will mail letters to owners in March. Hopefully people will actually get their cars repaired, instead of just filing that letter next to the slew of other letters from Toyota labeled "IMPORTANT. PLEASE OPEN IMMEDIATELY."
Reverse: Car Insurance Is Born
Via On-This-Day:
1898 - The Travelers Insurance Company of Hartford, CT, issued the first automobile insurance policy. Dr. Truman Martin of Buffalo, NY, paid $11.25 for the policy, which gave him $5,000 in liability coverage. 

Neutral: Do You Want All Automakers To Build SUVs?
SUVs are where the money is at, and everyone is getting in on the money-fest, building tall wagons of all sizes. Are you cool with all automakers—even those who don't traditionally build such vehicles—entering that space?