A 2017 Ford GT supercar popped up on Mecum Auctions' website in May, but it wasn't just its 647 horsepower or potential to sell for triple MSRP that garnered attention: It was also whether Ford would sue Mecum for selling it at all. Ford did, the day the car sold, and the lawsuit ended in a settlement this week.
The GT, silver with black racing stripes and only seven miles on the odometer, sold for nearly $1.7 million at Mecum. That's far more than the $450,000 base MSRP of the current generation's early years of production, and far more than the new ones are going for as base prices creep toward $500,000.
But it wasn't over after the car crossed the block. Like with other publicized GT sales, there was a lawsuit from Ford in the pipeline over its agreement requiring customers not to resell for 24 months after receiving the car. And, like with the other two publicized GT lawsuits, a settlement came a few months later.
A settlement notice came through Marion Superior Court in Indiana on Nov. 6, saying Ford, Mecum and the other defendants—Michael J. Flynn Jr. and his company Hollywood Wheels, which bought the car from its original owner, listed as John W. Miller in the original lawsuit—settled.
G/O Media may get a commission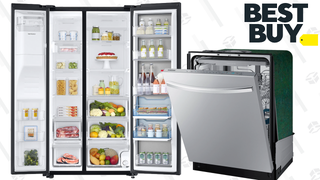 Up to 50% off
Best Buy - Samsung Major Appliance Sale
When asked for details about the settlement and comment on anything related to the court case or sale, Mecum declined to comment to Jalopnik. We've also asked for comment from Ford, and will update if we hear back.
Ford offers the current GT to people chosen through its application process, so long as they sign the agreement mentioned earlier. Ford sued on allegations that Miller broke that agreement by a long shot, just like Ford did with professional wrestler John Cena, whom the company sued late last year for an early resale along with one of the dealers the car passed through. Ford looped the dealers and Mecum in on the lawsuits, all of which have been settled, on the allegations that they knew or should've known about the agreement.
That 24-month clock is ticking on the earliest deliveries of the GT, though, and they'll be eligible for resale without contest from Ford when it runes out. But at this point, we may never know how many vehicles the current, limited-run GT generation is actually limited to, so years of lawsuits may very well lie ahead.