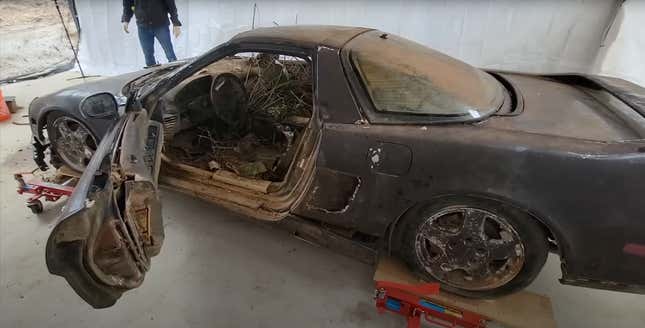 Earlier this month, we brought you the story of a first-generation Acura NSX that was purchased at auction for a mere $8,500. If you know anything about Acura's first mid-engine supercar, you know that's an astonishingly low price. Especially when you find out that the example in question has a mere 39,000 miles on the clock. For comparison, a 32,000-mile NSX sold for more than $80,000 on Bring a Trailer just a few years back. But this NSX has been sitting at the bottom of a river for the past 20 years, so it's a little bit worse for wear — as we see from this first video documenting the project, and all the dirt, mud and crud it has accumulated.
In case you missed it:
Helix Auto Works is the name of the YouTube channel dedicated to documenting the resurrection of this decrepit NSX. Clearly, the folks behind this project have their work cut out for them. Dubbed "LochNSX," the crusty old Acura comes complete with massive damage to the passenger-side A-pillar, all of the corrosion you'd expect from sitting submerged in water for two decades, and yup, plenty of mud and silt.
As the story goes, the NSX was stolen roughly 20 years ago, and somewhere along the way, the thieves dumped the car in the drink. Naturally, that means the folks at Helix are going to have to replace just about everything in the car — the engine, transmission, the complete electronic system, and any rubber components in the suspension or body.
Still, the gargantuan project seems to be worth it to the crew. Whether they make this thing into a factory-stock NSX restoration, a stripped-out track car, a platform for heavy tuner mods, or whatever, they're still likely to end up way ahead on the project compared to most NSX builds. Provided they can get all the mud and crud out of this thing.