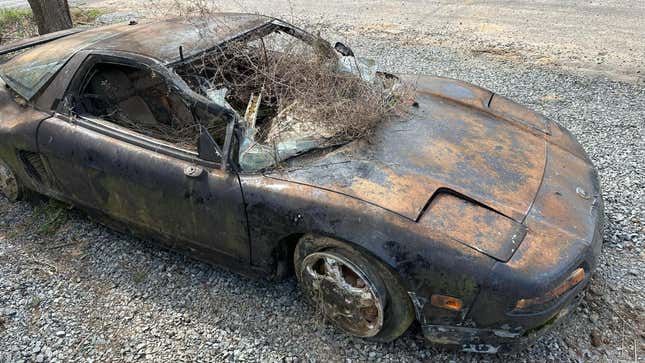 These days, a first-generation Acura NSX is going to easily cost at least $50,000. Probably more. Especially if you want one that doesn't have a ton of miles on it. So you might be surprised to hear that a 1990 Acura NSX with only 39,000 miles on the odometer recently sold for $8,500. And no, I didn't mistakenly leave a zero off that price. Eight thousand and five hundred United States dollars. You might also assume there's a catch, and you would be correct. The Acura NSX in question spent 20 years at the bottom of a river.
The Future of Acura's Supercar Factory
CarScoops reports that the river-dwelling NSX was recently sold by LSX Salvage for an incredibly low $8,500 after divers found it in 2019 while looking for a different car. Apparently, it had been stolen 20 years ago before being dumped in the river. And as you can see, it's very much worse for the wear. The engine is missing, the windows are broken, the A-pillar's been damaged and the entire car is filled with muck and more than a few plants. But, you know, other than that, it's still in pretty good condition.
Believe it or not, Road & Track actually found the new owner, Jay Bozeman, one of the co-founders of Helix Auto Works, and apparently, he plans to get it back running again. But Bozeman's still not sure whether to try to fully restore it or turn it into a track car.
"It's pretty savable except for all the obvious stuff like, the engine's probably trashed, the transmission's probably trashed, wiring's probably trashed," Bozeman told Road & Track. "But the body panels are all aluminum so they're not going to rust." He's also not put off by the damage to the A-pillar, telling R&T, "There's some damage that occurred after it was pulled out of the river, at the A-pillar. But we have leads on donor parts for that."
We're not sure this is the smartest buy anyone's ever made, at least from a financial perspective. But we do appreciate that there's someone out there who's crazy enough to try to rescue this poor, neglected NSX. After all, it never asked to spend the majority of its life at the bottom of a river. It deserves a second chance at life.