AgustaWestland's new AW609 tiltrotor aircraft is still at least two years away from entering service, but we now have a better idea of just how fast this transformer for civilians is going to be. On a "point-to-point" journey from Yeovil, UK to Cascina Costa, Italy, the AW609 traversed the 721 mile route in 2 hours 18 minutes.
Speed is one of the biggest advantages of a tiltrotor aircraft, combining the cruising abilities of a turboprop airplane with the vertical take-off and landing (VTOL) capabilities of a helicopter. With this in mind, AgustaWestland hopes the AW609 will be in high demand for a variety of customers, including VIP transport, offshore oil and gas services, medevac, and others.
The AW609 has a cruise speed of 316 miles per hour, and will offer a range of about 500 miles with a full load of nine passengers. Range increases to about 800 miles when carrying six passengers, and auxiliary fuel tanks are being developed to extend its range even further, to a maximum of 1,265 miles.
G/O Media may get a commission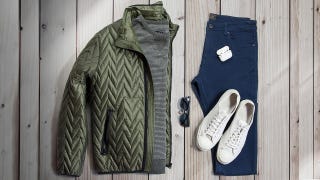 60% off
Jachs NY Fall Sale 60% Off
The next step in development for the AW609 is FAA certification, which is currently planned for 2017. Customer deliveries would begin after the FAA gives their final approval, which likely can't come soon enough for AgustaWestland and their suppliers. The AW609 program initially began almost 20 years ago as a joint venture between Bell and Boeing (who are partners in the V-22 Osprey military tilt rotor).
Boeing then dropped out of the program in 1998, with Agusta attaching itself later that year. But at the peak of the worldwide economic downturn, Bell grew disillusioned with the commercial prospects for the aircraft and subsequently bailed in 2009.
We still don't know exactly how much AgustaWestland plans to charge for an AW609, but estimates have suggested somewhere in the range of $30 million (depending on how the individual aircraft is configured). AgustaWestland is expected to announce pricing later this year.
Bell V-280 Valor concept image
If the AW609 is successful, other tilt rotor aircraft could be certified to compete in the civilian space. While AgustaWestland has claimed at least 60 orders so far, the AW609's popularity could spur a commercial variant of the Bell V-280 Valor tilt rotor concept currently in contention for the military's Future Vertical Lift program.
Bell's V-280 is said to improve on other tilt rotor designs with engine nacelles that do not pivot with the rotors. Sikorsky, which has incorporated pusher prop technology in its S-97 Raider concept, could also one day compete with the AW609.
Tilt rotors are a dream solution for missions like search and rescue, where every second counts. This has been the V-22 Osprey's most successful role, and the AW609 could add significant performance to Coast Guard operations worldwide. But whisking wealthy elites to and from urban areas is the big opportunity that AgustaWestland is betting on with the AW609. Never before could private individuals experience the luxury of landing virtually anywhere while also obtaining turboprop-like speeds and comfort.
Will these machines be the transformative product for AgustaWestland and others? We'll just have to keep waiting to find out how the civilian market will ultimately respond to tilt rotor aircraft.
Photo credit: Top shot - AgustaWestland, Middle shot - AgustaWestland, Bottom shot - Bell Helicopter
Follow the author on Twitter: @collinkrum