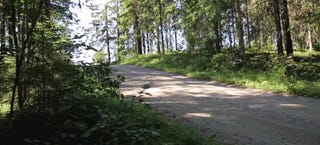 "We spent more time in the air than on the ground at today's test," is how WRC driver Hayden Paddon described practicing for this weekend's legendary Rally Finland. And Hayden wasn't the only one going airborne.
Rally Finland (formerly the Rally of the Thousand Lakes) is defined by its roads. Finland was never a rich country, so they had to cut their roads right through the forest, winding as little as possible, and grading as few hills as they could get away with. For a rally driver, that means incredibly fast roads, and huge leaps. The road just falls away underneath and cars go soaring. The Finns call them 'yumps' and they're the defining character of their so-called Grand Prix.
Just watch the videos of testing and you'll understand why some people estimate half a million spectators will turn up to watch this event.
Here's New Zealander Hayden Paddon in his new Hyundai.
Here's the reigning champion Sébastien Ogier in his all-conquering VW.
Here's the native Finn Jari-Matti Latvala, possibly the most aggressive driver in the field.
Here's the brilliant Finnish goofball Mikko Hirvonen in his four-wheel-drive Fiesta.
And here's young Welshman Elfyn Evans in his Ford.
I can't wait until the rally! If only it was on TV.