Okay, so it's not actually an EK9 wagon, although that would be really, really cool. This is in fact a marriage of two different Honda vehicles which share parts: a Civic and an Orthia. And despite this being JDM as hell, this actually isn't Japan. It's Hong Kong. Still totally badass. EK WAGON, GUYS. GET EXCITED.
And this isn't even the only one! Apparently user EK4 Hatchback over on EK9.org got the idea from his brother, who already did this. So what exactly are we looking at here, because it really looks flawless. Well, basically, car manufacturers do an awful lot of parts sharing. I have a great deal of experience with this because of my own EK and now my GA. You would be amazed how many unique Honda models you could create if you just had access to the parts.
In this particular case, the EK wagon is this:
Plus this:
G/O Media may get a commission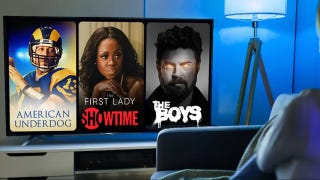 UNDER $1
99¢ Prime Video Channels
Most of these parts simply will bolt right on. That's nature of parts swapping. And it's not just EK Civics (and the Orthia has a 96-98 Civic interior), it's GA Logos, it's DC2 and DC5 Integras, etc, etc. Not to mention that I've seen people in the US do Civic to Domani conversions, and that's also pretty simple. Honestly, it would be possible to fit a significant amount of the Ek9 interior into the EK wagon with very little if any modification, although for some parts you might need to get creative.
Ek4 Hatchback slapped in some EK9 Recaros (you might remember, mine are from a DC5) and is tracking down an EK9 steering wheel. He's added replica Integra Type R wheels ('96 spec, I believe), which has a 4 lug pattern, but is the same style as the later 5 lug EK9 wheels. I've been trying to find some of these myself, but in a gunmetal and not white for the GA. I think if he wanted to, he could even paint his front and side lips and see about fabricating a back lip to complete the look. Slap on the front and rear red Honda Emblems, and go to town.
Here's what the exterior looks like so far:
Pretty damn convincing. The interior, however, needs some work. The seats have been replaced...
But it's an automatic. And a non-VTEC B20B. But it doesn't seem like this is the end of the story, so hopefully we're going to see some serious changes to the internals and maybe the transmission type. Why? Because EK9. Because wagon. Because EK9 wagon, fun for the whole family. Literally.
Images via EK4 Hatchback/EK9.org, Public Domain, and Honda.