Nowadays we have a tendency to look back at 1970s-era Formula One as the golden days of the sport—and while I do think we should be a little more critical about our view through rose-tinted glasses, I have to say, some shit was just better back then. Like, the fact that team principals used to compete on track during race weekends, just like their drivers.
That's right. I'm talking about the Jack Brabham Trophy race that took place at Brands Hatch in 1971.
Basically, racing was a lot less uptight back then than it was now, so The Powers That Be in F1 decided, screw it, let's get some Mark 1 Ford Escort Mexicos, let team principals and former drivers get behind the wheel, and have some fun.
It's as wonderful as it sounds. Famed team principals like Frank Williams, Colin Chapman, Ken Tyrrell, and Max Mosley lined up alongside former drivers John Surtees and Jack Brabham to duke it out for ten laps. They even have Graham Hill commentating on the action.
This race took place during some down time at a World Championship Victory Race—which was basically a Grand Prix where points didn't count toward the final championship. So why not have some fun with it?
G/O Media may get a commission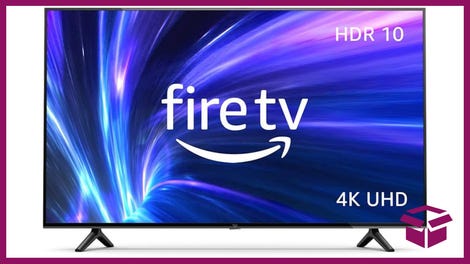 42% Off
Amazon Fire TV 50" 4K Smart TV
[Spoiler alert: Jack Brabham ended up winning the race. I don't know what else you could expect.]
Not to wax too poetic on the past, but man, it would be great if F1 still did goofy stuff like this. There are so many petty media spats between, say, Toto Wolff and Christian Horner that it would be delicious to see what they could do given the chance to actually race out their feelings on track. Hell, why not revive Emerson Fittipaldi's dream of a Celebrity Tractor Race?
I feel like it would solve at least five of F1's current problems—namely, the ones that have to do with how boring and stuffy the whole atmosphere of the sport is. Who knew the solution could be as easy as letting team principals just send it.