An experimental flying car crashed this morning near a school in Canada. Does this mean it is also the first ever flying car crash? (UPDATED)
Details are scarce, but the car was the creation of a Florida company, and was called a "road worthy tester." The crash occurred around 9 AM this morning near a school in British Columbia.
The occupants were not seriously injured and are expected to make a full recovery.
It doesn't sound like the company that built the car is Terrafugia, the Massachusetts based startup that wants everyone to take to the air. These are the sort of things we may have to deal with.
G/O Media may get a commission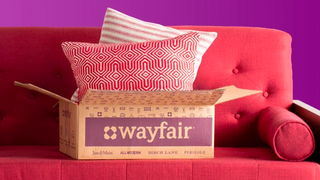 Big deals
Wayfair Surplus Sale
UPDATE: The car that crashed is called a Maverick (thanks to commenter Demon-Xanth for the tip), built by Florida based Maverick LSA. The car uses a parachute and a propeller to fly. I spoke with Troy at Maverick, and he said they are still trying to find out what happened and that they just found out, but that everyone in the crash will be ok.
I asked Troy to keep us updated on what happened, and he told me "that's too much effort." Amazing they don't sell more of them! Looks like I'll be calling him back a few times.
CTV News reporter Curtis Allen was on the scene, he relayed this account to us:
From what I know, pilot Ray Sebring designed the car to be used in 3rd world countries for missionaries. The idea is when the road ends, they put up the "Wing" and fly until there is road again.

He took off this morning in Vernon British Columbia and crashed around 8:45am PDST. He was meters away from an elementary school that was going to have a sports day that morning. He crashed into the schools fence, which may have saved his life, and came to rest a few feet away at the base of some trees.

He's okay, as is his passenger. I've heard he put his teeth through his lips.
Photo Credit: Curtis Allen, CTV News
(Hat Tip to @LyleHanton!)