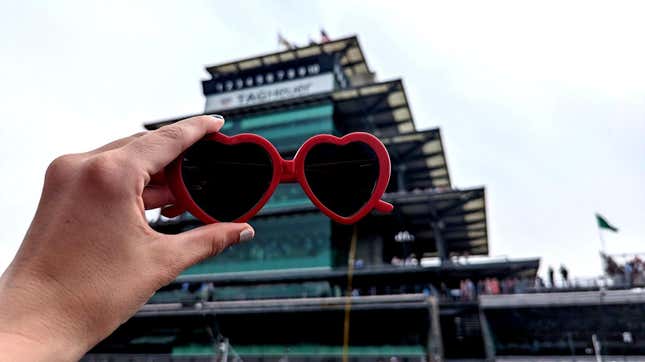 If you've even so much as heard of the Indianapolis 500, there's a good chance you know it comes with layers of tradition. You might know about the milk, or the Gordon Pipers, or the yard of bricks, or the Coke Lot. You might not know anything, aside from the fact that fans really seem to fall in love with this race, returning time and again. And that's because every fan who attends the 500 more than once has built their own set of traditions that make the race so much more meaningful to them.
I attended the 2023 Indianapolis 500 as a guest of Honda, but my pre-race traditions have such a deeply engrained place in my heart that I can't imagine race day morning without them — even when I'm at the event in a professional capacity.
I didn't mean to start a tradition when I attended my first 500 back in 2016. That year, I just did some stuff that made sense. I arrived at the track bright and early with my friend Remy, and we set up shop in the Pagoda Plaza to watch the track wake up. We intended to watch the Monaco Grand Prix, but we also put out a tweet asking our friends to come converge with us — which meant everyone would occasionally check for race updates and inform the group when something interesting happened. We cracked our first beer of the morning around 8 a.m., and we let the joy of being around our friends raise our spirits and get us prepared for the race.
Over time, that tradition has evolved. My friend Jay drives down from Wisconsin with a pack of Spotted Cow; I'm not even a big beer drinker anymore, but now I couldn't imagine the 500 without a can of the hyperlocal brew.
This year, my friend Jason brought a whole entire cake — a tradition he intended to start last year, only to forget the pastry in the car. We gathered around with a giant pack of Meijer-brand spoons to dig in, and Jason promised to bring cake every single year until that pack of 96 plastic spoons has been depleted.
I didn't attend the 500 in 2020 or 2021 as a result of the COVID-19 pandemic, and when I returned in '22, it was with a slightly bigger public profile. That year, I posted my usual tweet asking folks to meet up, but it came with a more professional bent to it. People wanted to hang out in a friendly capacity, yes — but they also wanted to talk about my work and ask for some advice. This year, Alanis King and I hosted a meetup where we signed copies of our book Racing With Rich Energy, and it was surreal to see how many people spent the morning of race day hanging out with us.
The poignancy of those personal traditions, however small, didn't really sink in until this year. The incredible folks at Honda offered us a place to watch the Monaco Grand Prix — but that would have meant skipping my pre-500 ritual of hanging out in the Pagoda Plaza. I couldn't even imagine an Indy 500 where I went in person and didn't spend that morning time with friends. I don't think it would have felt like Indy. Not for me.
And I know I'm not the only one with those race quirks. I've met people who bring the same cooler to every Indy 500 — a cooler that never goes anywhere else. I know a couple who have gotten up before dawn every year to sip spiked coffee while they wait in line to get into the track because they like to watch the sun rise from their seats. I've had people tell me how distraught they were that their favorite bar shut down, because that was where they always went for post-race drinks. I know a local family who has said the same prayer every morning before the race; they don't even know who started it, because it's been something they've all grown up with.
It's a beautiful thing. The longevity of this race lends itself to habit. A seemingly out-of-the-blue decision — like, say, drinking some milk after winning the race, or kissing the yard of bricks that marks the start line — can become an unshakeable habit loaded with meaning after years of repetition. There's something beautiful about returning to a place year after year, relishing the constancy of a personal ritual as a way to appreciate just how much has changed since the last time you were there. Everyone who attends shares the sense of community that comes from hearing "Back Home Again in Indiana" each year, but even as we find meaning alongside 300,000 other people, it's so beautiful to see how everyone creates their own quiet moments of personal significance.
People throw around the phrase "you don't know what Indy means," and even if you've been, there's a good chance you don't — at least, not the way another person experiences the event. You might sit alongside me and soak in the precisely timed pre-race ritual, each lap of the race, and the emotional celebration at the end, but you'll never know my Indy. You'll never be 20 years old staring up at the Pagoda for the first time, and you'll never come back seven years later with my sense of accomplishment under your belt. You'll never know what Indy means, not the way I see it filtered through my own lens of experience and tradition — the same way I'll never know what it means to you. And that's one of my favorite parts of the 500.