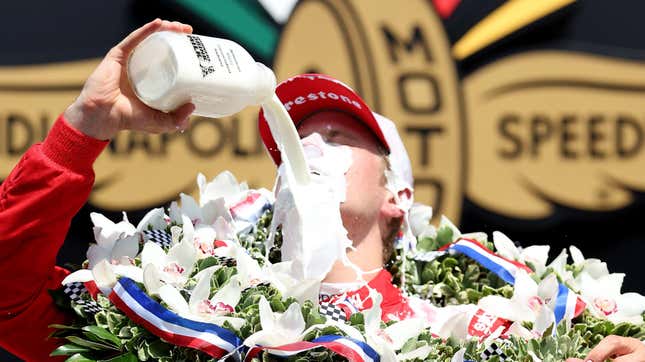 The Indianapolis 500 has been around for over a century, and like many entrenched cultural institutions, it has developed a cavalcade of bizarre traditions. The most famous ritual is the race's winner getting handed a bottle of milk in victory lane, taking a sip and then dumping the whole thing over their head. Now, a bunch of crank doctors are making a push to end the practice.
The Indianapolis Star reports that the Physicians Committee for Responsible Medicine has bought billboards near the Indianapolis Motor Speedway and sent a letter to the track's president to stop the milk-dousing tradition. The non-profit group advocates for the widespread adoption of plant-based diets and the end of animal testing in medical research. However, neither mission is used as the reasoning behind the campaign.

Dr. Victoria Othersen, a "plant-based" suburban Indianapolis doctor, erroneously claims in the letter there's a link between dairy consumption and prostate cancer in the letter. She also states the celebratory gesture encourages the Indy 500's mainly male fanbase to drink milk because it's a "very manly thing to do." The claim is frankly ridiculous. There is no scientific research that directly ties dairy consumption to increased cancer risk. Also, the idea that splashing yourself with a creamy white fluid is extremely masculine is hilarious.
The Speedway has no plans to stop handing a bottle of milk to the Indianapolis 500 winner. The tradition stems from three-time winner Louis Meyer asking for a bottle of buttermilk after his second victory in 1933. Meyer said that while growing up his mother told him to drink buttermilk to cool down on hot days.

The practice became a tradition during the 1950s with sponsorship from the dairy industry, However, winners can no longer drink buttermilk in victory lane. Drivers can choose a preference between skim, two-percent and whole milk, but the Indiana Dairy Association refuses to let drivers select buttermilk. Modern buttermilk is genuinely disgusting and only intended to be used as a cooking ingredient.