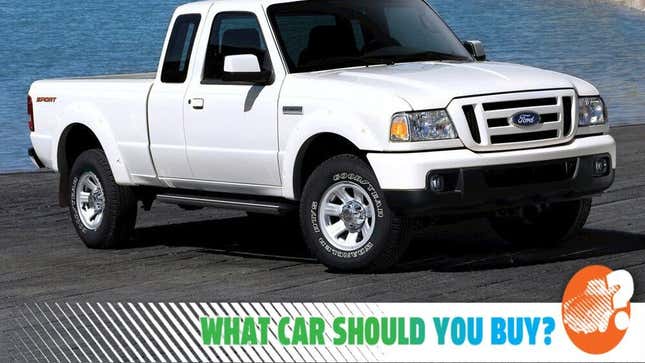 Bernie lives in California and has three pretty excellent rides a Jetta TDI, an 91' Miata, and an 08' Ford Ranger. However, he wants to simplify his life and find one car that can fit his needs for fun to drive, good fuel economy and the ability to haul some stuff. What car should he buy?
Listen To The Lexus RC F Sing Through The California Mountains
In case you missed it:
(Welcome back to What Car Should You Buy? Where we give real people real advice about buying cars. Do you want us to help you find a car? Submit your story on our form.)
Here is the scenario:
I'd like to trade the three vehicles I now own: a VW Jetta TDI, a 1991 Mazda Miata SE, and a 2008 Ford Ranger for one vehicle that gets reasonable fuel economy, is relatively fun to drive, and can haul stuff.

Must haves are: Automatic, air conditioning, power locks, rearview camera, Sat. radio, good fuel economy, capable of hauling four (old) people and assorted stuff. I want a rear view camera for backing up without me imitating Linda Blair in The Exorcist.

No gas guzzlers-better than 20 mpg combined is required. No high-clearance vehicles. No big-ass trucks that don't fit in parking spaces, either.

Total budget is $35,000
Quick Facts:
Budget: up to $35,000
Location: Ventura, CA
Daily Driver: Yes
Wants: Fun, decent MPG, hauling capacity
Doesn't want: A big truck or something with poor fuel economy

Expert 1: Tom McParland - Wagon Time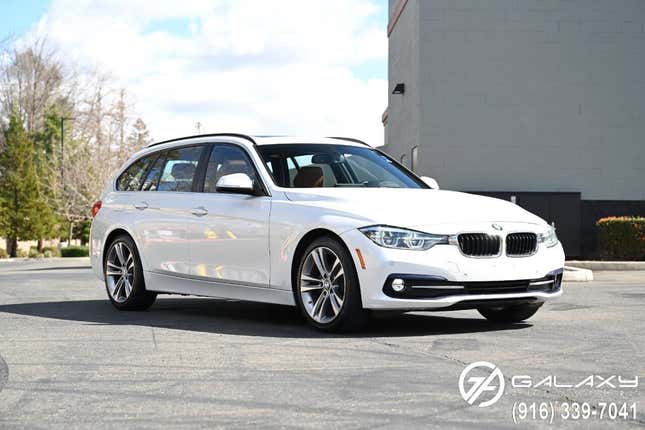 Bernie, I think you already know that if you are trying to combine three really good cars that are very good at their specific niche into one car, there are going to be some sacrifices to be made. What is most likely going to happen is you find something that isn't quite as enjoyable as the Miata and will lack the usability of the Ranger.
What we are going to land on is something that is pretty good at being a commuter, hauler, and fun ride but perhaps not excellent at any one thing. However, you can blend all of those attributes fairly well in the BMW 3 Series Sportwagen. This car will have the solid driving dynamics of the BMW 3 series, return respectable MPG, and with the extra cargo hold behind the rear seats, it should be enough to manage your hobbies. If you really want to lean in on maximizing the fuel economy, you can opt for the diesel engine.

Here is a nice 328d in California with a "sport" package and it will return up to 40 MPG on the highway. Personally, I would opt for the slightly easier-to-find gas models, as they feel a lot quicker behind the wheel compared to their diesel counterparts.

Expert 2: Owen Bellwood - Van Time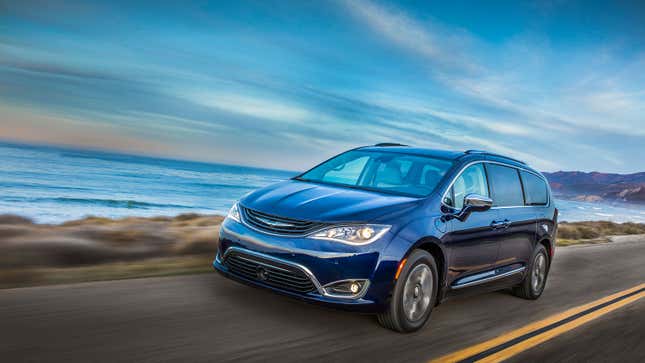 Bernie, that's quite the situation you find yourself in, and getting something to fill the Miata-shaped hole in your life is always going to be tough. But, I think you're off to a good start with the BMW suggested by Tom.
However, while we're all familiar with wagon supremacy by now, I think you're primed to uncover minivan excellence. So Bernie, I think it's time you made the switch to a Pacifica. Sure, on the surface the Chrysler minivan might not be the obvious replacement for a Miata, a Jetta ,and a Ranger, but it's the next logical step in your growth as a car fan.
Specifically, I think you should get this freshly-cleaned Pacifica hybrid, as it gives you oodles of space in the back for hauling stuff around, has some annoyingly good looks and, thanks to its hybrid powertrain, will give you 30-miles of battery-powered driving as well as 30 miles-per-gallon combined of gas-powered driving. What's more, it very much isn't a ridiculous big truck that everyone else is going to hate seeing out on the road. And, to top it all off, a Pacifica is way more fun to be around than a Ranger, we all know that.
Expert 3: Collin Woodard - 83 MPGe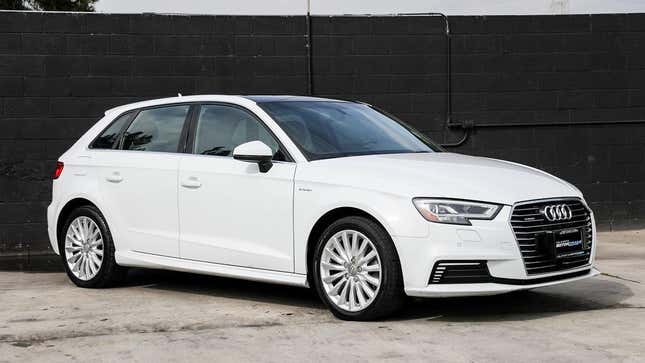 In general, I'm a big fan of minivans. Am I still mad that my parents traded their '80s Mercedes for a Mazda MPV when my brother was born? Absolutely. But minivans are just so damn practical, it's hard to actually be that mad. I love them and will always defend them. But in your case, Bernie, I think Tom's suggestion is more of what you're looking for than Owen's. The three cars that you currently own and the list of requirements you gave don't really scream "minivan" to me.
My initial suggestion was going to be the Jaguar XF Sportbrake because I'd love for you to make a wonderfully bad decision, but as it turns out, those haven't depreciated enough to fit your budget. But I did find a 2017 Audi A3 Sportback E-Tron not far from you that might actually give you everything you're looking for.
It probably isn't spacious enough for four large old people, but if they already fit in your Jetta, they should be fine in the A3. Fold the rear seats down, and it's got plenty of room for hauling stuff. And with 204 hp and 258 lb-ft of torque, it should be plenty of fun for your do-it-all needs. If you can charge it at home, it also offers 16 miles of EV range, which should cover most of your daily driving needs. On longer trips, the EPA rates it at 83 MPGe, so you don't really have to worry about the cost of gas killing your wallet, either.
And since it's an Audi, it has all the creature comforts you could want, including that backup camera you're looking for. Maintenance and repairs may be a little pricier than your Ford Ranger, but since this one only costs a little over $21,000, you'll have plenty of money left to keep it on the road. Get the Audi, Bernie.
Expert 4: Lawrence Hodge - Not Quite a Pickup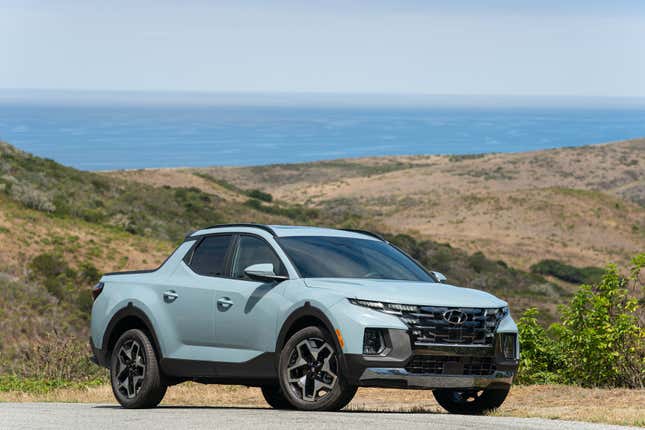 Given what you want, there are a few vehicles that I could have recommended, but they would have been not quite right. A Dodge Magnum R/T or SRT-8? Old, with bad fuel economy. Kia Stinger? Fun to drive, but the fuel economy also isn't quite there in the V6 versions. You need a modern take on the small-ish pickup. Like the Hyundai Santa Cruz.
And yes, I know, unibody trucks like the Honda Ridgeline and Ford Maverick exist. But the Ridgeline is pricey now, with a starting price over $38,000, and the Maverick has been deep in the mess that is markups since its introduction, which has marred its "cheap, small pickup for everyone" image. And that's if you can even get your hands on one.
The Santa Cruz, however, would be perfect for your needs. For one, its not hard to find them at or near sticker anymore since they're not as hot a seller, like this brand new 2023 Santa Cruz I found for just over $31,000. Being that it's essentially a Tucson with a bed means it's going to be easy to drive and park. Most importantly, it gets decent enough fuel economy. With front wheel drive, you can expect 22 city/26 highway/23 combined from its four cylinder engine. And you can haul stuff like a truck. But don't haul anything too big. The bed is only just over four feet long and can hold 27 cubic feet of stuff. So think of it less as a pickup bed and more of a convertible trunk. But I'm sure you could make it work.