Good morning! Welcome to The Morning Shift, your roundup of the auto news you crave, all in one place every weekday morning. Here are the important stories you need to know.

1st Gear: It's Like I Am Legend, But The Deleted Original Ending
As the price of a new car in the United States has gone up and up and up into the stratosphere (even as failed economic and labor policies force wages to stagnate for decades), car dealers are wondering if maybe they have been at fault, the Wall Street Journal reports:
After decades of fighting to protect their businesses and advocating for dealers to Congress and the federal government, dealers see their new mission as advocating for the consumer to keep the cost of a new vehicle low.

The average price of a car to date through February is about $32,200, about $500 more than the price of a vehicle last year, according to J.D. Power, as manufacturers roll out new models with additional technology and safety features, justifying an increase in price. Customers are also buying more SUVs and pickup trucks, which come with a higher transaction price compared with sedans.
If the cost of a new car continues to rise at rates it has been, "it will stop sales," said Wes Lutz, chairman of the National Automobile Dealers Association. "It's just more than the consumer can handle."

And while we're all happy that dealers are having an "oh wait, I'm the asshole???" moment, I don't blame them. Not entirely, anyway.
I blame Volkswagen.
Yes, Volkswagen got a lot of shit over Dieselgate, but that's not it. It goes back way further than that.
G/O Media may get a commission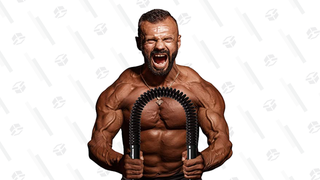 10% off
Zenooze Boa Power Twister
Volkswagen made its bones with the original Beetle, a car that everyone could afford, a car for the masses. But at some point, it found itself like Aladdin in his titular Disney film. It was embarrassed of where it came from. It wanted to pretend to be something more, pretend to be something bigger.
So it got rid of the old Beetle. It started making cars like the Golf – originally a small, barebones city car – into relatively large, complex machines with leather interiors. Its large and complex machines became even larger and complex-erer machines. At one point, it went so far as to make the Phaeton, which was extremely advanced, but also not a people's car at all.
Why? Because Volkswagen got the idea into its head, and into the heads of its customers, that small cars were something embarrassing. Oh sure, Europe can get wonderful little cars like the Up! and the Polo, but the United States?
Forget it. Small cars are nothing but one ton of shame.
And like Marion Cotillard in Inception, this idea spread like a disease, consuming not just Volkswagen, but the entire auto industry. Since not even VW was brave enough to make a truly small and cheap and dignified car, no one could be. And since the manufacturers couldn't be brave, the dealers couldn't be brave. And then the consumers.
Volkswagen, only you can fix this. Bring us the Up! and the Polo. Hell, even the Up! GTI.
And sure, dealers, in the meantime you can also stop trying to milk every last penny out of your customers.
Every little bit helps.
2nd Gear: California And The EPA Prepare To Go To War
Ever since the Trump administration took over, the EPA has acted as the decrepit regulatory arm of Big Oil, doing its bidding wherever possible. And yet despite being run by the party of "states' rights," it is mysteriously trying to crush the state of California, which already has the right to regulate its own greenhouse emissions owing to an agreement that goes back decades. And now, California is punching back, Bloomberg says:
California intends to counter punch by revoking its "deemed to comply" provision, two people familiar with the matter said. The obscure-but-important state rule declares that carmakers that satisfy the EPA's tailpipe greenhouse gas standards automatically fulfill California's rules too.

California officials started notifying the nine states that follow California's air quality regulations of this prospect last week, the people said.

"What this shows is that California and the states are saying, 'We're serious. We decided based on the midterm review that these standards are achievable and are what the states need to meet our goals, so you're going to have to comply with them,'" said Dave Cooke, senior vehicles analyst at the Union of Concerned Scientists.

Eliminating the rule would expose automakers to a patchwork of efficiency regulations if Trump regulators, as expected, impose weaker standards than California's in upcoming model years. The state has already locked in its rules through 2025 and is developing tougher standards through 2030. California and the several states that follow its tailpipe regulations together account for about a third of the U.S. auto market.

Automakers posted record sales and profits under the Obama administration's "too tough" rules, so I'm not buying the poverty argument. I suspect California will win here.
3rd Gear: The Chicken Tax Is Here To Stay (At Least For Korea)
The Chicken Tax is the worst tax there is, preventing American consumers from buying all sorts of weird and wonderful pickup trucks whose only crime is that they were not physically assembled in the United States.
We unequivocally despise it.
But in the revised trade deal announced by the U.S. and South Korea this week, U.S. negotiators made sure it not only stayed, but was extended by another 20 years, Reuters reports:
The United States and South Korea agreed to revise a trade pact sharply criticized by President Donald Trump, Seoul said on Monday, with the nations agreeing to extend U.S. tariffs on Korean pickups by 20 years until 2041.

"The union has called for domestic [South Korean] production of pickup trucks for the past several years," the union said in a statement, adding it believes the U.S. pickup market "represents the U.S. market's blue ocean and the future bread and butter of the South Korean auto industry."

Although no South Korean automakers currently export pickups to the United States, Hyundai had said last year it planned to launch a model there to catch up with a shift away from sedans.

The smartest politician in the world will adhere to nothing but the Jalopnik Party platform, and they will win every goddamn election.
4th Gear: But American Workers Sort Of Made Out Okay?
We're not sure this one balances out the damage done to American consumer choice, but the American worker did receive one very small concession, the AP says:
Conversely, South Korea agreed to allow the number of U.S.-made vehicles to be imported without being subject to local safety regulations to double to 50,000 a year. However, no American car brand sold more than 10,000 vehicles in South Korea last year.
And that 50,000 represents a little over one percent of the 3,000,000 cars manufactured in the U.S.! A little over one percent boost, in exchange for an extension of the chicken tax! Huzzah!
5th Gear: GM Threatens Its Korean Workers With Bankruptcy
Speaking of America and Korea and cars, General Motors has been in tense negotiations with the workers of its Korean subsidiary, demanding that it basically be allowed to lay off a ton of workers. And if it can't, it's going to declare bankruptcy for all of them (again from Reuters):
The union said earlier this month it will not demand a pay rise and bonuses this year, but instead wants the U.S. automaker to provide a future production plan and job security.

GM Korea still wants the union to agree to cut benefits worth 80-90 billion won ($74-$84 million), a union official said on Tuesday. The automaker had already achieved cost cuts of over 500 billion won through union concessions on wages and bonuses and voluntary redundancies, the union official added.

GM Korea plans to slash 5,000 jobs, or about 30 percent of its workforce, but keep production steady if Seoul agrees to its $2.8 billion restructuring proposal, according to a document seen by Reuters earlier this month.

Ugh.

Reverse: R.I.P.
Kiichiro Toyoda, founder of the Toyota Motor Corporation, which in 2008 surpassed America's General Motors as the world's largest automaker, dies at the age of 57 in Japan on this day 1952.

Neutral: What small car would you buy if you could?
Skoda Citigo, all the way.