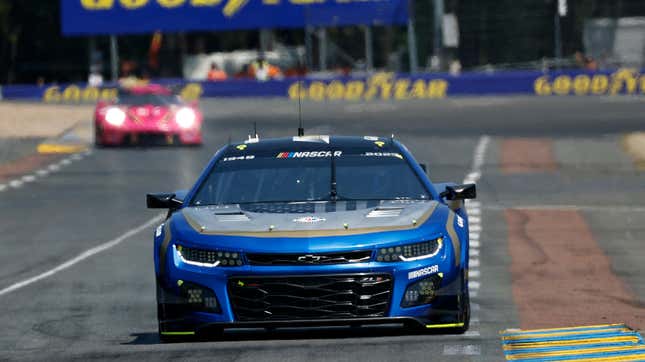 When NASCAR announced that a NextGen stock car would be racing in the 24 Hours of Le Mans, there were questions quickly turned to its potential competitiveness. Performance upgrades were understandably made alongside modifications to allow the Camaro to run in the dark safely. Now, the Garage 56 car is topping timing sheets over a single lap. Could it stay out front for 24 hours?

Many wondered if the Garage 56 Chevy Camaro would even keep up against teams fielding the Ferrari 488 GTE, the Porsche 911 RSR and the Chevy Corvette C8.R. The No. 24 Camaro ended the official Le Mans test day last Sunday ahead of the 21 GTE Class entries by 2.3 seconds. In the first practice session earlier today, the stock car was ahead of its GTE rivals by 5.5 seconds.
While the Garage 56 car was fitted with aerodynamic dive planes and carbon brakes, it might be the Camaro's pre-existing power advantage causing the difference. The stock car uses the same 5.86-liter V8 engine as in NASCAR Cup Series competition. The engine can produce over 750 horsepower, a massive difference compared to the 600-horsepower Ferrari 488 GTE Evo before competitive balancing. At Le Mans, 85 percent of the lap is at full throttle.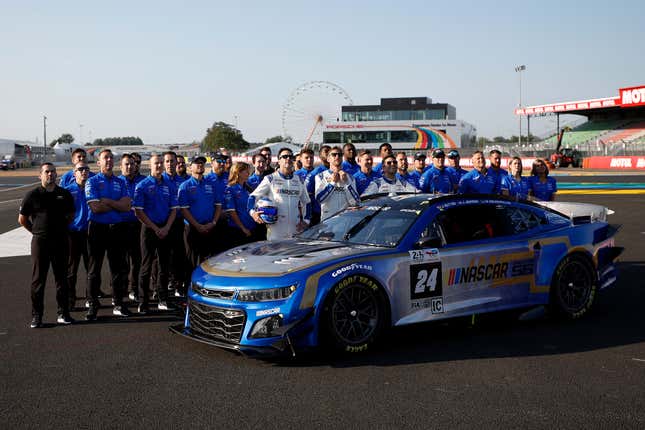 The Garage 56 car has the speed, and pit stops won't be an issue. The team's pit crew won in class in the Le Mans pit stop challenge despite using a manual floor jack. The Camaro was also fitted with a larger fuel tank, similar to the other cars in GTE. Like with many contenders at Le Mans, whether the Garage 56 team leave France victorious or not will seemingly come down to reliability.