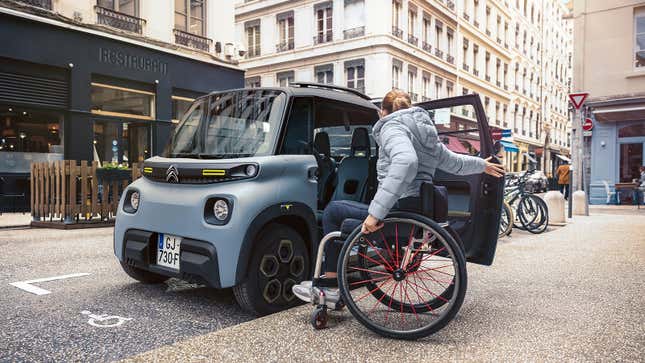 By now you should all know that the Citroën Ami is the ultimate friend-shaped car. The cutesy quadricycle has space for two, a top speed of just 30 mph and a look that's so adorable I just want to smush its nose. It also spawned an off-road model, a Fiat-styled twin and now an accessible Ami created for drivers who can't use one or more of their lower limbs.

This NYC Garage Takes Vanlife To The Next Level | Jalopnik Visits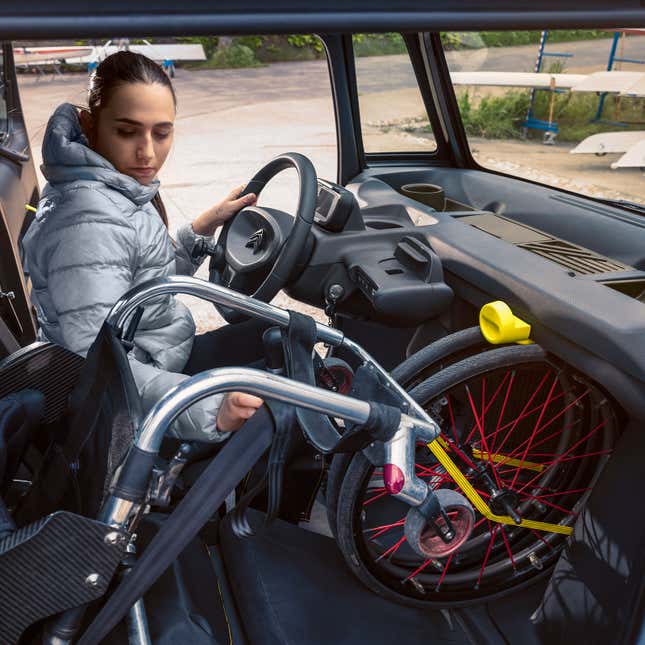 Called the Ami For All, the concept takes Citroën's battery-powered quadricycle and gives it a larger door opening angle as well as the equipment necessary to help disabled drivers out of a wheelchair and into the car's seats. The Ami has also been fitted with mechanical and manual controls for accelerating and braking, and a knob on the steering wheel that Citroën says will make driving easier.
What's more, despite its diminutive dimensions, Citroën says the Ami For All will also have space "inside or outside the cabin" to transport a wheelchair.
"Ami has reintroduced ease of movement to micro-journeys and given more independence to teenagers, the elderly and those without a driving license," Thierry Koskas, Citroën CEO said in a press release.
"We are delighted to present this technical solution to support the mobility of disabled People and we are working to make this project achievable in the short term."
The project, which was developed in conjunction with mobility conversion specialists PIMAS, makes use of the original Citroën, which is powered by an 8 HP electric motor. The quadracycle can manage a top speed of 30 MPH and, thanks to a 5.5 kWh battery, has a range of about 43 miles.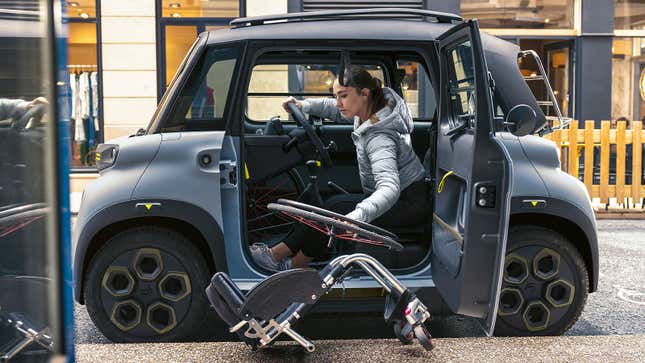 The concept is being showcased at the Autonomic trade fair in Paris, which runs from June 6th to 8th.