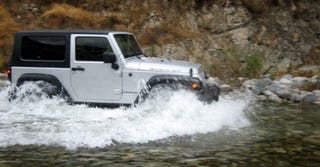 The woes keep on coming. CerebusChrysler DaimlerChrysler is recalling 2007 Jeep Wranglers and Dodge Nitros because an electrical glitch could cause the vehicle to stall. True, both of these vehicles share the family 3.7-liter V6, but the Liberty remains unaffected because it uses an older, glitch-free ECM. While a recall of 80,000 vehicles is just large enough to merit coverage, we're mostly posting this because of the following:
The automaker said the power interruption could lead to a short engine stall, but said the engine would immediately restart if the vehicle was in motion.
Sounds like a fuel-saving feature to us.
Chrysler recalls Wranglers, Nitros over engine [msnbc.com]
Related:
Jalopnik Reviews: 2007 Dodge Nitro R/T 2WD, Part 1; VW to Recall 790,000 Cars. Oof.; SEMA 2007: Jeep Wrangler JT Concept [Internal]