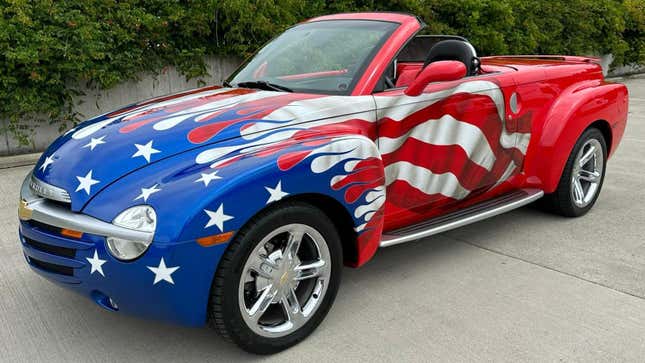 I've admitted in the past that I like the Chevrolet SSR. It's wrong of me, and I know it, but I can't help having a soft spot for a two-door convertible truck with a near-400-hp V8 and a manual transmission. It's 100 percent a car for boomers, and I won't pretend that it isn't. But this particular Chevrolet SSR is so boomer it hurts. But in kind of the best way possible?
This NYC Garage Takes Vanlife To The Next Level | Jalopnik Visits
Currently listed for sale on Cars & Bids, this SSR is guaranteed to get attention everywhere it goes. It's as America as American cars get. Sadly, it's an automatic, but that's probably a positive for whoever actually buys this thing now that their hips don't work as well as they used to. After all, at a certain point, shifting your own gears becomes a young person's game, or so I hear. And with under 24,000 miles on the odometer, it looks like it's been incredibly well taken care of.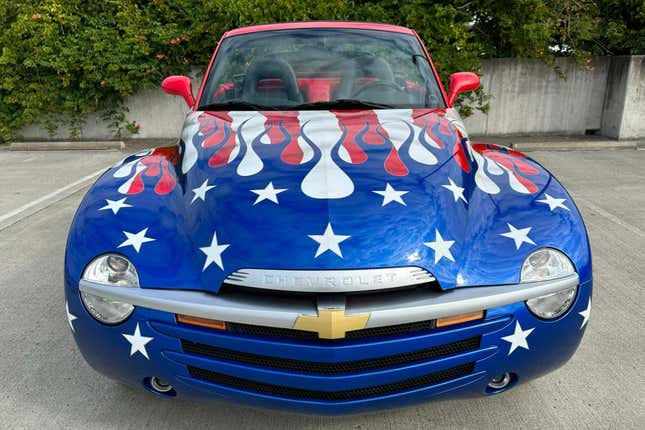 There really is no getting around the paint job, though. It's not a car that just anyone can pull off at this point. You have to be a special kind of person to unironically drive an American flag SSR, and something tells us 99.99999 percent of people are not that kind of person. But we'd like to think there's at least one guy out there who is going to see this car and question where it's been all their life. Probably not on here, but maybe when this post gets shared on Facebook?
According to the seller, getting the paint just right was no easy feat. In one of the comments, they say:
The work was done by one of the highest regarded body shops in the area (formally known as "Bodyworks" and now called "Exotic Motors Auto Rebuild"). There were countless hours put into this paint job from the preliminary design sketches (see photos #200 and #202 in the gallery), to the layering of different colors, to the shadow-effects on the white stripes of the flag, to the stenciled stars, to the hand-laid outlines of all the stars and stripes (see photo #205). On top of that, they put a dazzling metallic across the rest of the truck body that sparkles beautifully in the sun. This was an expensive undertaking without a doubt.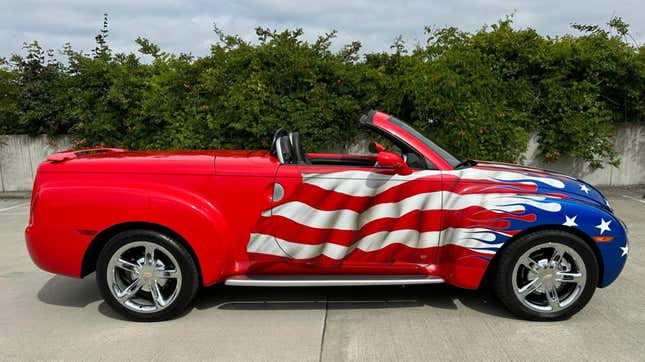 Honestly, the best thing about this SSR is that it isn't half-assed at all. The original owner clearly had a vision for their car and refused to let something like "practicality" or "money" get in their way. Other people may not have shared their vision, but who cares? The owner got to live their best life behind the wheel of this thing, and now someone, somewhere will get to continue living that dream. We're not entirely sure who that person is, but there have already been four bids, so someone is at least interested in it.