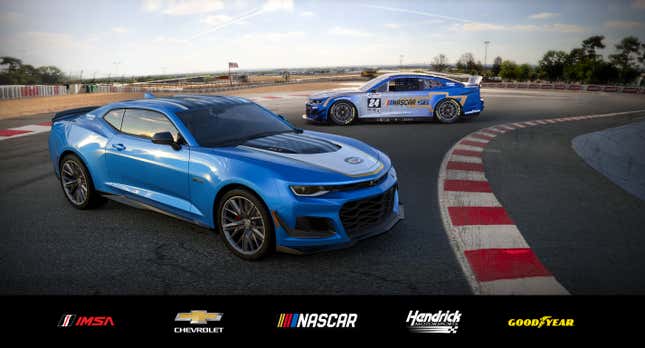 The sixth-generation Chevrolet Camaro isn't going out with a whimper but with a bang. Chevrolet has partnered with NASCAR, IMSA, Hendrick Motorsports, and Goodyear to bring a Camaro ZL1 NASCAR Cup Series stock car to this year's 24 Hours of Le Mans. The Garage 56 car has undoubtedly impressed in France so far. Ahead of the race itself, the Detroit automaker has announced a new special edition Camaro ZL1 to commemorate the one-off appearance at Le Mans.
The 2024 Chevrolet Camaro ZL1 Garage 56 Edition will sport a Raptide Blue paint job and decals similar to the Garage 56 race car. The special edition car also features front dive planes and a rear wicker bill spoiler. Marc Mainville, a senior manager at the GM Motorsport Design Studio, said in a release:
"When adapting a race car appearance into a production car, you want to showcase themes, proportions and colors without making the car look out of place on the street. The Garage 56 Edition captures the feeling of the race car while allowing the car's athletic lines to be in the forefront."
Besides the visual and aerodynamic changes, the Camaro ZL1 Garage 56 Edition will be the same under the hood. The production car will use the same 650-horsepower LT4 V8 engine as the standard ZL1, roughly 100 hp less than the race car's R07 small block V8.
The Garage 56 stock car takes on the 24 Hours of Le Mans this weekend with seven-time NASCAR champion Jimmie Johnson, F1 champion Jenson Button, and Le Mans winner Mike Rockenfeller behind the wheel. The Camaro ZL1 Garage 56 Edition will enter production later this year at GM's Lansing Grand River Assembly facility in Michigan. Appropriately, Chevrolet is only producing 56 cars.