This is the Morning Shift, our one-stop daily roundup of all the auto news that's actually important — all in one place at 9:00 AM. Or, you could spend all day waiting for other sites to parcel it out to you one story at a time. Isn't your time more important?
---
1st Gear: We're All Behind Our Baseball Team
The Detroit Tigers clinched the American League Central Division title last night, after a roller coaster season in which many of us wrote them off many times. The victory means the Chevrolet fountain at Comerica Park will get plenty of air time on national television, and it probably means we aren't done seeing that ad in which Justin Verlander and Miguel Cabrera "sing" the Chevy theme song. Speaking of them, we know Verlander is a serious car buff, so if he repeats as Cy Young Award winner, he'll probably need an even bigger garage. And Cabrera deserves to be American League MVP, period.
Argue all you want about that youngster, Mike Trout, but he's a one-season wonder while Miggy has performed year in and year out — and had his best season while staying sober. Make all the jokes you want, but anyone who's tussled with sobriety knows how hard it can be to take it one day at a time, let alone make baseball history. So, we'll be joining all those car people who stay up late and are a little groggy at work the next morning, at least for as long as the Tigers can hang on (and that bullpen is no guarantee that they will go very far).
G/O Media may get a commission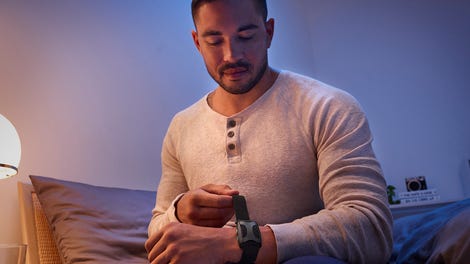 ---
2nd Gear: Now Volkswagen Is Picking On The USA
The Detroit News says Volkswagen isn't satisfied just with picking a fight with Fiat. It's criticizing the American economy, too. In a speech in Washington, Jonathan Browning, president of the Volkswagen Group of America, said yesterday that concerns about the country's ability to tackle its problems were one reason why VW picked Mexico instead of the U.S. for a new factory (issues involving export costs were also a factor). "This country needs to get its house in order. It needs to restore global confidence in the workings of its political system," he said, according to the News. "I say this as a great admirer of the United States and with the full recognition that Europe is struggling with its own significant problems," said Browning, who is British.
The United States has been a magnet for foreign investment for more than half a century because it was the world's most stable, wealthy, transparent and open market, Browning said. And, VW has invested $4 billion in Chattanooga, Tenn., where local officials were hoping (and even expecting) that the company would expand its factory there. But now many other countries, such as Mexico and China, are competing for global investment. The new Mexican Audi plant illustrates the rising competition, he said. "If the United States wants to continue to be a magnet for foreign investment, it will have to compete for it," he said, according to the News. "Companies have choices." Come to think of it, Fiat's Sergio Marchionne made a similar point to the Canadian Auto Workers union. Maybe it's get tough with North America time in the auto industry.
---
3rd Gear: GM Teases The Next Chevrolet Silverado
The Detroit Free Press says GM has released a teaser shot of the next-generation Chevy Silverado going through some final testing. Now, the car is wearing more camouflage than Ted Nugent during bow and arrow season, but you can get an idea of the outlines of the new truck. It's the first re-do for the Silverado since 2006 (trucks generally have much longer life cycles than cars) and it's scheduled to be built next year in Arlington, Texas and Fort Wayne, Indiana. There isn't a date certain when the new Silverado goes on sale. Until then, it's likely Chevy will be discounting the outgoing Silverado pretty heavily. The Free Press reports some analysts say the company is offering dealers $10,000 to move each truck.
---
4th Gear: Toyota Shifts Gears On Fuel Efficient Engines
Autoweek reports that Toyota is taking a new direction on with its powertrains in light of the fuel economy gains made by gasoline engines built by its rivals. Rather than put all its eggs in the hybrid basket, It will introduce a new direct-injection engine next year and follow that with a downsized turbocharged one —its first — in 2014. It is also committing to continuously variable transmissions across its range of small- to medium-sized cars. Toyota isn't backing away from hybrids, but Autoweek says it is broadening its portfolio because of a push by Akio Toyoda to make its vehicles more exciting. Toyota currently doesn't offer any turbos — it experimented with the technology in the 80s — and it offers direct injection primarily on Lexus models.
---
5th Gear: Hyundai Genesis Coupe Cosworth Is Our Kind Of Tuner Car
Cosworth is a legendary name in performance cars, and now Hyundai has contracted them to tune up their Genesis Coupe. With 389 horsepower and 325 lb-ft of torque, the numbers gains aren't outlandish, but the package looks just right.
This Cosworth is debuting in the heart of America's... More »
---
Reverse: The Road Trip That Cost America A President
On this day in 1919, President Woodrow Wilson suffered a massive stroke that effectively ended his presidency. The attack came after an 8,000 mile, 22 day road trip in which Wilson tried to drum up support for the League of Nations. He gave up to three speeches a day, suffered from blinding headaches and eventually collapsed from exhaustion in Pueblo, Colorado. As soon as he got back to D.C., the stroke put him out of commission. Wilson was left unable to speak or move, and his wife, Edith, basically ran the country until he left office in 1921. [History]
Neutral
In keeping with our new discussion system, here's a place for you to own the floor. We're asking each day what you think about an issue that comes up in TMS.
Today, what do you think of Toyota's decision to embrace turbo-charged engines and direct fuel injection? Is it too late to catch up? Or a smart move given how hybrids have done? Remember there's no right answer or wrong answer. It's Neutral.
Show us your tips!
Got tips for our editors? Want to anonymously dish some dirt on a competitor? Know something about a secret car? Email us at tips@jalopnik.com.
Lost in our new layout?
Click here for the Opposite Lock or Tips forums. Want a more "blog-like" look? Click the button up top next to "Top Stories."
Get more Jalopnik!
Want even more Jalopnik? Want to know which of your friends read us? "Like" us on Facebook, follow us on Twitter, and subscribe to our newsletter.