For too long the American market has lacked an affordable, accessible, fast, responsive, fun, communicative, good-looking rear-wheel-drive sports coupe. The Hyundai Genesis Coupe is that car. Finally.
The Ford Taurus Is Reborn — But Only For the Middle East
Full Disclosure: Hyundai wanted me to drive the new Genesis Coupe so badly they flew me out and put me up in a Casino to make sure I wrote about it. Also, they fed me sliders. I'm more of a vegetables kind of guy.
Late last summer I drove a Hyundai Sonata and couldn't have been more horrified with the experience. It didn't so much accelerate as whine about being asked to do so, corners were best avoided and the thing was straight nasty inside in the way we've come to expect cars from Korea to be.
G/O Media may get a commission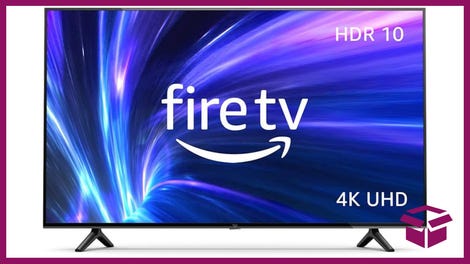 42% Off
Amazon Fire TV 50" 4K Smart TV
The Genesis Coupe couldn't be any more different.
Down into second and the rear wheels squeal as they lose traction, the rear end getting loose as I turn into the 180-degree right-hander. Floor the throttle before the apex, lift a bit to slow the rotation, counter steer to the left and the Coupe is drifting across the track, making full use of the width added by the pit exit. Straighten things up, into third gear and then floor the throttle. Straight over a crest as the wheels temporarily lose purchase, then keep that throttle pinned through an off-camber sweeper. This isn't a Sonata.
A glance at the spec sheet and you know this is going to be an impressive car. There's two engines: a 3.8-liter V6 with 306 HP and 266 Lb-Ft of torque or a 2.0 turbo with 210 HP and 223 Lb-Ft. The 3.8 will run 0-to-60 MPH in 5.5 seconds and top out at 149 MPH. The 2.0T takes 6.8 seconds to reach 60 and tops out at 137 MPH. It's lighter than an E46 BMW M3 (3,294 Lbs for the 2.0T, 3,389 for the 3.8; the M3 is 3,415 Lbs), yet its chassis is 24% stiffer. Suspension is MacPherson front, five-link rear. Roll bars are 24mm front, 19mm rear. At 2.7 turns lock-to-lock the rack-and-pinion is quick and accurate.
So many other cars have taken similar or better numbers and turned them into a lackluster driving experience. Does the Genesis Coupe make the same mistake? No. This Hyundai is more about experience than it is about numbers.
Pitting it against a similarly equipped (but $2,320 more expensive) Mazda RX-8 (provided by Hyundai) around an autocross course, the Hyundai demonstrated a near total aversion to understeer. In comparison, the RX-8's front washed wide under power around the 1st and 2nd gear 90-degree corners, those same corners had us taking advantage of the Coupe's comparatively prodigious mid-range and considerably greater front-wheel grip to slide the rear around. Back on the racetrack an Infiniti G37S — much more expensive, but nevertheless close in spec, it's also a 5-seat RWD coupe with a 300+ HP V6 — was noticeably harder to read, displayed considerably more body roll and had a tendency to enter into near-uncontrollable slides when it wasn't understeering. It was also much slower.
The best thing about the Genesis Coupe is the chassis. Equipped with the Track pack — larger Brembo brakes, thicker anti-roll bars, 19" wheels, summer tires, stiffer suspension, a limited-slip differential on the 2.0T (standard on the 3.8) — it's a near-ideal budget trackday car that you could also drive everyday on the road. There's no body roll; the brakes are powerful and don't fade; there's plenty of feel through the cheapo steering wheel and there's a wonderful neutrality between under and oversteer. Enter a corner too fast and the front will eventually push - the actual limit being surprisingly high - but crack open or lift off the throttle and the rear will rotate in a completely controllable manner. It's the kind of car that rewards good driving, but would also help relatively novice drivers learn to drive fast in a real sports car safely.
That's not to say the Genesis Coupe is without flaws, they just don't come from the chassis. The 6-speed manual is notchy; a flaw that particularly becomes apparent while shifting down from 3rd to 2nd. Try to rush that shift and you'll encounter something akin to a false gear to the left of 2nd. The 2.0T also leaves us a bit cold. It's actually the engine we were most looking forward to trying - at $22,000 it offers a uniquely appealing rear-wheel-drive performance proposition - but while the actual performance level is reasonable, the power delivery is completely flat (an optimist would call it seamless), which isn't what we've come to expect or like from a turbocharged engine. A greater sense of drama would make it more exciting. On the track, the handling is simply so competent that it overwhelms the engine's performance meaning turning in fast times becomes more about momentum preservation than it does playing with the rear tires.
Other niggles include the interior quality. The cloth seats on the 2.0T and standard leather items on the 3.8 are surprisingly nice and supportive, so we're guessing Hyundai was able to afford them by skimping on the dash and door covers, which look like a Sonata's and the steering wheel, which is some sort of leather that feels just like cheap plastic. Its only the latter that we're really concerned about with such a low starting price. There was room for two helmeted six-footers in the rear seats, but we didn't want to stay there very long.
In contrast to the 2.0T the 3.8 V6 is very exciting to use. On the road there's plenty of low- and mid-range torque, while on the track it becomes more about wringing out every last RPM, peak power arrives at 6,300 RPM. It's not that the engine is lacking power, but more that there's just the right amount, meaning most drivers will be able to wring its neck when they're really trying - something we find incredibly rewarding - but, if they're in the right gear, won't want for any more. That V6 also delivers a raucous noise, combining well with the stiff ride and immediate responses; you'll never forget that you're driving a sports car.
While the 2.0T starts at $22,000, you'll need to spend $4,750 more for the Track model. That brings it above the $25,000 base of the 3.8, the Track version of that goes for $29,500 and there's also a bells-and-whistles Grand Touring for $27,500. The price of those options packages — we'd treat the Track as a necessity for the more discriminating enthusiast drivers — brings the Genesis Coupe dangerously close to more established competitors like the 2010 Ford Mustang GT. The 'Stang's 4.0 V6 model performs similarly in a straight line to the 2.0T Genesis, yet starts at $20,995. A V8-engined Mustang GT, which accelerates a little faster than the 3.8 Genesis, starts at $27,995, but like the Hyundai the Ford really needs the optional Track pack, bringing the total price to $30,190 (the $1,500 Track pack requires the $695 19" wheels). The thing is, Hyundai is preparing bare bones R-Spec versions of the Coupe that'll feature all of the Track performance upgrades, but none of the interior or exterior add-ons that add money. The Hyundai Genesis Coupe 2.0T R-Spec will cost just $23,750 when it goes on sale in the fall. Make sure you check out the rest of the numbers on both version of the Genesis Coupe, and how they compare to key rivals on key stats like fuel economy, in our 2010 Chevy Camaro Numbers Comparison.
If you'd asked us a year ago if we'd ever consider purchasing a Hyundai, we'd have laughed in your face. But now, with the Genesis Coupe, Hyundai makes an honest-to-god sports car and we find ourselves wanting a 3.8 Track. This is an incredibly impressive first effort at a sports car from a company that, before the Genesis Sedan, and now the Coupe made nothing but mind-numbingly boring econoboxes. We can't wait to see what Hyundai does next.
2010 Hyundai Genesis Coupe 2dr 2.0T Man Specs
Engine type
Turbocharged Gas I4
Transmission/Drive
Manual w/OD