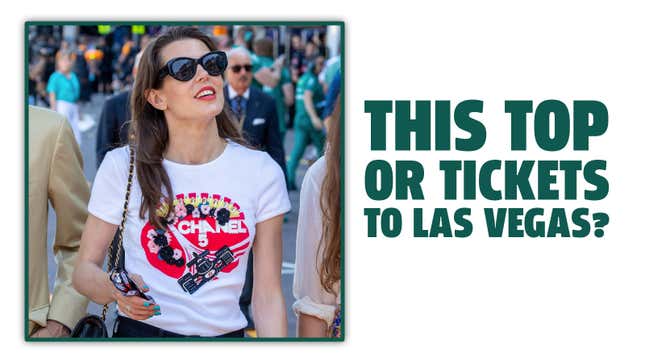 By now, we're all well aware that sports merchandise is expensive. You want a Yankees jersey? That'll be a hundred bucks. You want a Lakers cap? Another $50, please. But Formula 1 is a sport that excels in extracting as much money as possible from its fans. And after outrage over the price of F1 merch when it hit Miami, the sport has outdone itself with a new pair of Chanel tees.

The tops in question aren't actually licensed by Formula 1, but they do feature a glamorous design that's heavily influenced by the sport — particularly its iconic Monaco Grand Prix.
On the front of one, there's a blue race car that's careering its way round a sparkly race track. The Chanel-badged racer is flanked by the blue of the ocean, and a smattering of flowers and shapes that mimic the Monaco skyline.
The second has a red background with a black Chanel-badged car racing across it. There are more flowers encircling the car, and text that reads "Chanel 5." They're both nice tops, I'd probably wear something very similar out and about if I saw it for sale in H&M or Zara.
But these tops aren't from H&M or Zara. They've both got those two little Cs front and center, which means that these tops actually costs a lot more than my t-shirt-buying budget will allow. In fact, HighSnobiety reports that they're actually priced at an eye-watering $4,450.
That's not just an astronomical amount to spend on a tee, it's an astronomical amount to spend on anything Formula 1 related.
If you want some context, the unofficially-most-overpriced race on the calendar, the inaugural Las Vegas Grand Prix, doesn't even charge this much for access. Sure, the six-figure suites we've covered here are excessive, but even a grandstand ticket to the race will set you back less than half the price of these tops.
Clearly, it's a tee that's aimed at the kind of people that can afford to spend $130,000 to tie up their yacht in Monaco instead of slumming it with the fans on the streets of Las Vegas.
And after all, a piece of merch like this is going to last you, what, a couple of years? The memories of queuing hours for a portaloo while you watch race cars flash past in the blink of an eye will last you a lifetime.